Why bunn coffee maker is so popular?



Bunn coffee maker is almost synomynous with coffee makers. Almost anyone in US that drinks coffee would have heard of bunn before? So, why are the bunn coffee machines so popular? What advantages do they have when compared to their competitors?
The thing about bunn coffee maker is the width and depth of its product offerings. By width, we meant the many different types of coffee machines. From drip coffee maker to single serve coffee, they have all the genre represented.
By depth, we meant the different make and models within one genre. Their filter drip coffee maker offers everything from domestic home use to large quantity format for commercial usage.
Many people would also equate bunn to lower cost model, all I can say, is this is the result of a successful marketing campaign. As mentioned, Bunn has many products, and while it is true that they have some very economical models, not all their offerings are low cost.
Then, there are many coffee lovers that are swoon by bunn advance coffee systems. While this advanced brewwise system is only limited to certain range of products, it offers great control to user to create a variety of coffee from one blend of coffee beans.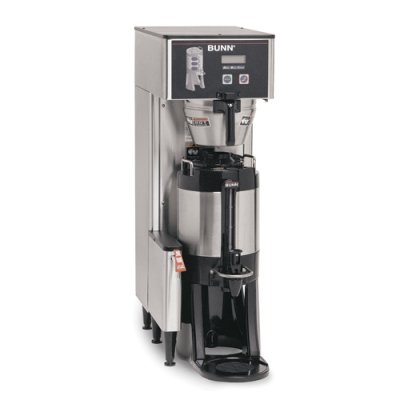 There is the pre-infusion, where the brewwise coffee system would control the wetting process by controlling the sprayhead that dispenses the hot water, it sprays the coffee, then turns it off, the next time it is turn on, the coffee is ready for extraction.
The pulse-brew is many coffee lovers' favorite tool. It allows one to adjust the flavor of their coffee by extending the brew time. Again, this is done via control over the bunn coffee maker sprayhead through a cycle of turning off and back on.
Another element that determine the brew is the variable pass, by bypassing some of the water around the ground coffee, it allows you to create unique coffee flavors.
Of course, if you are brewing, then temperature control is critical. The brewwise allows you to set the brewing temperature at precisely where you want it to be,although they do have a lock-out coffee maker feature to ensure that there would always be adequate water temperature.
This might be new to many of us, but this brewwise actually allow you to choose the spray pattern. The instruction manual says that this would yield the ideal coffee flavor, although it is not clear how this would be so.
Anyway, here are some reasons why a bunn coffee maker might be popular. And if the above temperature or quantity for the perfect brew is giving you more questions, you might want to sign up for our brewing the perfect coffee course -it would give you a deeper understanding on how to brew good coffee...