Braun KF187 Coffee Maker Allows You To Select Good Coffee



The Braun KF187 coffee maker is equipped with the unique Flavor Select brewing system which not only makes great coffee in no time but also, as the name implies- allows for the selection of the coffee flavor's strength.
From mild, to robust and aromatic, caffeine fanatics can now customize their coffee drinking experience to their liking with a hit of a switch.
Aside from the flavor control, the Braun KF187 coffee maker also have other great features.
Although, it is quite noticeable that such features are quite similar to those of the coffee makers belonging to the Braun Aromaster coffee line. However, the features of the Braun KF187 have slight variations which make all the difference.
---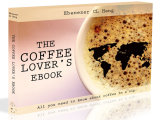 Love coffee? Here is some more "free stuff"! Learn more with this ebook (is free!)



---

We all know the value of hard earned money and that is why the Braun KF187 coffee maker has the following economical features. First, it helps to stop waste money buying those disposable paper varieties to filter coffee as included with the unit is a permanent gold screen filter which you can wash and re-use repeatedly.
Next, is the pivoting filter container with overflow protection which makes it sure that none of the coffee goes to waste. There is also the "small quantity" switch which allows you to pour yourself coffee that is less than the standard amount.
This way, you serve only what you can consume so nothing gets thrown to the sink. The pause and serve function allows you to pour coffee anytime without the hurry because the brewing process immediately comes to a pause once you remove the carafe from its base, therefore, no coffee will drip from the machine without a carafe to catch it.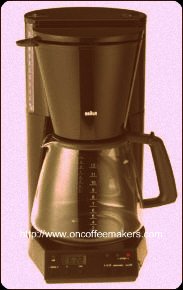 Speaking of carafes, the model comes with a nice and stylish carafe made of strong glass; but if for any reason you need a replacement Braun carafe, it is very much available in a lot of stores.
The PureAqua water purification system enhances the quality of the brewed coffee by removing impurities and contaminants from the water.
An adjustable hot plate temperature control with sensor also comes in handy to keeping the coffee hot and fresh longer. The visual and acoustic "Coffee Ready" signal is a cool way of telling you that your coffee is ready for the taking.
A 24 hr. programmable timer and digital clock also have their respective value add-on. Monitor how much coffee you can still brew with an outside water level indicator. Lastly, brewing up to 12 cups of coffee in no time sure is easy with a 1250-watt heating element.
All these great features in one amazing coffee maker for the price of $62.99- a bargain that no one can resist. Another similar and great product to consider is the Braun 2370, which I would talk more in another article. There are just so many good coffeemakers from the Braun Company, don't you agree?