Xp 2070 programmable 10-cup coffeemaker from krups is a small cafe!
Xp 2070 programmable 10-cup coffeemaker is likely to be the most comprehensive and all rounded machine from krups.
It can brew 10 cups coffee and does a decent espresso, and all these for less than a hundred dollars!
Before going into the details, do you know how to evaluate what is good for you?
---
How do I know if this is the best for me?
There are new models, new make of coffee makers coming out every month, the search can be relentless, it can go on and on.
The best is one that has the best fit for your lifestyle and profile. And so, when we evaluate coffee machine, we stick to the 4 Ps (not the marketing ones), Price, Plot, Phew and Popularity.
For more information on these 4 Ps in evaluating coffee brewers, check out the link.
Depending on which factor is more important to you, that would also point you to the most likely coffee machine.
---
Basic information about XP 2070 programmable 10-cup coffeemaker
This basic information would only show you how sophisticated this krups coffeemaker/espresso maker really is.
It is dual combination machine that can brew up to 10 cups of coffee and also extract a fine espresso with its 15 bars pump.
It comes with what you need for a coffee maker and espresso machine such as carafe, filter holder, thermoblock heating element and of course programmable feature to wake your morning up with coffee.
We would usually raise both hand to recommend this model because of its affordable pricing -$100 for two machines is consider quite cheap, don't you agree?
Of course, there are some drawbacks too.
---
Our evaluation
Price
As highlighted earlier, the pricing for this krups machine is very reasonable -$100.
So, unless this is very much above your budget, otherwise, this is a model that you should consider.
Phew
We have to admit, putting two machines into one make it complicated, there are definitely more things to get used to.
In general, the programmable feature works about the same.
But, have to score this lower because it is still more complicated than many models
Popularity
We are surprised, but this is not the most popular machine around. And even among those that have used it, the feedback are neutral.
People are not raving about this machine.
Plot
This would probably be the number one reason why you should not get this machine -it is not small.
If you do not have the space, then forget about this machine.
---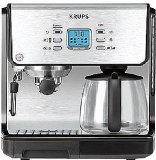 Should I buy this XP 2070 programmable 10-cup coffeemaker now?
Well, if we are you -no! Another place that you should check out the XP2070 is definitely amazon
-why? Not for their statistics but for their users comments.
Sure, it might just be a few words, but this would highlight is the feel towards this machine is mostly positive or negative.
To check on other machines that has similar reviews to xp 2070 programmable 10-cup coffeemaker, visit our krups homepage.
---

Your views and comments on Krups XP2070 coffeemaker
What is your views about Krups Xp2070 coffeemaker? Share it with us...
What Other Visitors Have Said
Click below to see contributions from other visitors to this page...