Get a travel coffee pot for the price of a coffee



This is about a travel coffee pot in its most simple form. Very often simple things will make life a lot easier. This certainly applies to the T-Mos Coffee Caddy Deluxe.
The only real requirements for this travel coffee maker are hot water and time. Obviously you need ground coffee and your favorite coffee mug as well.
There are many very different forms of travel coffee pot. A number of the larger manufacturers produce a variety of travel coffee makers. An example of this is the Keurig coffee maker in the B30 range.
However this Coffee Caddy is a drip coffee pot mechanism that fits over the top of your favorite coffee cup or mug. It is fitted with a permanent filter which makes it even easier to use. Making your own filter coffee on the go has therefore never been easier.
---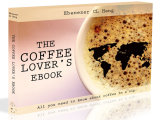 Love coffee? Here is some more "free stuff"! Learn more with this ebook (is free!)



---

Of course there is a lot to say for having a carafe coffee pot at home. But that is just the point. This travel coffee pot is for people on the road. It is lightweight yet sturdy and the deluxe edition comes with a lid and a spoon.
And all this for less than $ 5.00. The Coffee Caddy can make one cup of filter coffee at a time. You spoon the freshly ground coffee into the caddy and slowly add the hot water.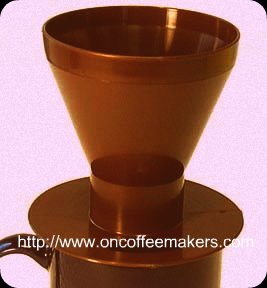 All you require is as much hot water as will fit into the cup. The permanent filter fitted into this travel coffee carafe will ensure that you only get good coffee in your cup.
The grounds remain behind in the filter. If you are unable to dispose of the grounds there and then you just fit the lid back on and clean the caddy at your earliest convenience. There really is not much more to it. Creating an excellent coffee experience for one person could not be simpler.
This handy device was not conceptualized to replace a traditional coffee maker in the home. This caddy allows the person on the road to enjoy the same quality of coffee experience as one would be able to enjoy in the comfort of your own home with out having to take along half of your kitchen appliances.
The large coffee machine can stay at home and you can enjoy good coffee a lot cheaper than having to purchase it every time. The "investment" is very reasonable and the "returns" are amazing.