Which thermal coffee maker is good?



Thermal coffee maker is consider good if their thermal capability is high. And by high, we meant that they are able to keep coffee at their peak temperature for more than 2 hours. Here, I would do a contest and the winner is of course, the one that can keep coffee hot for the longest period of time.
Everybody knows that if you would to mention thermal, then zqjirushi name would come out. Indeed, zojirushi ec-ed115 thermal coffee maker has one of the best thermal capability around. This coffee maker is able to keep coffee at its brew temperature for more than 4 hours!
Sure, their thermal capability is mean, but that is not to say that their other functions are lean. Ec-ed115 comes with comprehensive coffee maker features, a 10 cup capacity, auto shut off and even a timer clock, it has what most coffee maker would have.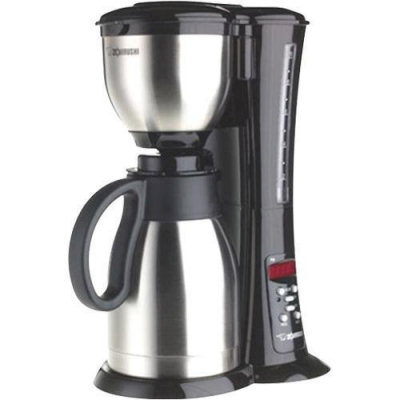 Another brand that is always associated with thermal is the braun kf600. With their stainless steel thermal carafe that are doubled wall, they can keep your cuppa hot for hours too. However, temperature starts to dip after 2 hours and by 4 hours, you get coffee which is slightly warmer than luke warm.
If you are running a contest, then the big boys in the coffee maker world would have to be around, from Mr Coffee, they have the 8 cup programmable thermal coffee maker. Although, I must say that the programmable feature is the main selling point of this coffee maker and not really their thermal carafe.
Similarly to Braun Kf 600, the coffee temperature cannot be maintained past 2 hours.
Reading till this point, you are beginning to see that if one is looking for a thermal coffee maker and is very particular about keeping their coffee hour for a long period of time, then zojirushi seems the clear choice.
And this is very true, the only one that come close to zojirushi thermal capability would be capresso MT500/400 coffee maker. This thermal 10 cup coffee maker is able to maintain the coffee peak temperature for close to 3.5 hours and comes with the pretty comprehensive coffee maker features, that includes charcoal water filter and drip stop pause feature.
Oh, and if you are thinking that this capresso coffee maker has a very high retail price, then you would be glad to know that the price is pretty reasonable as well! Sure, it is slightly more pricey than the usual coffee maker, but you don't get gold mesh filter with your standard coffee maker, do you?
Note: Since we are sort of talking about COST and the dollars and cents, I thought you might be interested to find out a way to get free coffee...
This is my take, if you really need a coffee maker with great thermal function, go for zojirushi ec-ed115, and if you need thermal but can live with anything that is between 2.5-3.5 hours (of keeping your coffee hot), then the features rich Capresso MT500/400 would be one that you should consider.