Starbucks barista espresso machine gives you the peace of mind
No, while starbucks barista espresso machine is pretty easy to operate, it has nothing to do with the "peace of mind" which I am talking about. It is a thing which is the competitive advantage of Starbucks that I would touch on later.
First, how do I rate this
starbucks barista espresso machine
? Personally, I find that it is easy to use and an espresso maker that is value for money. Those of you that had read some of my reviews and articles know that there are 2 things which I usually harp on, the look of the machine and the pressure of an espresso machine.
For this starbucks machine, it definitely score high marks with its stainless steel model. Although, one would have to pay slightly more for the stainless model, I would say it is well worth the money. The fact is, its lower priced model does not look too bad too.
Metallic and dark colors can fit into any kitchen decor and so one would not have to worry about the matching of coffee machines into your kitchen theme.
---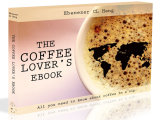 Love coffee? Here is some more "free stuff"! Learn more with this ebook (is free!)



---

The pressure from this pump driven fellow reaches slightly above 12 bars which is more than enough to give a good shot of espresso. To be honest, this is also one of the espresso machines around that is very easy to shot an espresso.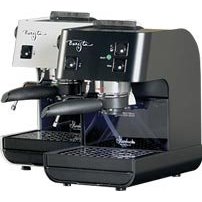 I think there is some secret within the portafilter which allow one to easily pull an better than average shot of espresso. Anyway, the bottom line is, this starbucks barista espresso machine is easy to make an espresso.
Personally, I also like the water storage tank or rather the way it is designed. If you have ever refill water tank, you would know how troublesome it is. For this model, all you need to do is to open the flip and pour in the water, a very hassle free way of topping up water.
Sure, all these sounds good and are definitely reasons for you to get this espresso machine, but do they give you the peace of mind? I do not think so. What is being highlighted here is also available in many other models of espresso machines.
I mentioned that this "peace of mind" is given by the competitive advantage of Starbucks and it is their mission statement to provide the best coffee experience -great service!
Comes with a 2 year warranty, anytime if there is something wrong with your starbucks barista espresso machine, all you need to do is to make a phone call and get it exchange. In fact, it might be just as easy as going downstairs to the starbucks near your house to do the exchange.
If this is a chain that would close all their outlets to re-train and ensure that their service level is maintained, you can be assured that your request for an exchange would be promptly entertain.
So, don't you feel at ease with such level of customer service when buying this machine? That is peace of mind, don't you agreed?