Santos Electric vacuum coffee maker



The Santos electric Vacuum Coffee maker 3000 10 USA is another one of those products from Bodum that get people talking. I guess that is the reason there is this statement: Man's ingenuity is a never ending source of amazement and wonder.
At first sight, the Santos Electric Vacuum Coffeemaker is a strange sight. One wonders what the design engineers at Bodum must have been thinking.
There appear to be two transparent half spheres attached to each other, not at the edge or across the flat surface of the cross section, but rather at what would constitute the poles of a sphere.
This is also where the filter is located. However, once the Santos Electric Vacuum Coffee maker is "loaded" and ready to go, it becomes an object of wonder and discussion as the coffee wanders through to the top before being pulled down into the carafe.
---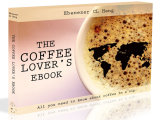 Love coffee? Here is some more "free stuff"! Learn more with this ebook (is free!)



---

There are many Santos Electric Vacuum Coffeemaker owner who freely give advice on how to improve on the "performance" of this Santo coffee maker.
Some call for the stirring of the coffee in the top hemisphere whilst others say that the creation of a "whirlpool" will concentrate the grounds and drive more coffee through the filter.
It will have to be left to each individual owner of a Santos Vacuum Coffeemaker to decide on the merits of the advice offered by so many Bodum coffee maker owners.
The final product is what matters. The coffee has a similar taste and visual profile as coffee made from bodum vacuum coffee maker, of course must be better than those brewed from one of the Bodum French press coffee makers.
The coffee is slightly more cloudy than the coffee one can enjoy made with one of the "regular" Bodum coffee makers. It is the visual effect of the vacuum coffee pot process that is the most fascinating of all.
In fact the Santos Electric Vacuum Coffee maker can very well become a regular conversation piece as all will watch in wonder as the water and coffee travel between the two half spheres.
This latest edition of the Electric Vacuum Coffeemaker is made of plastic. Some consumers have commented that the reduction in chances of breakage has encouraged them to use their Santos Electric Vacuum Coffeemaker more often.
Others have bemoaned the fact that plastic is not as scratch resistant as glass and the careful cleaning of the Santos Vacuum Coffeemaker in such manner as to avoid scratches has become a chore.
All, however, agree that this is their coffee maker of choice.