of all Saeco coffee machines, our choice of prima donna



One of saeco coffee machines goes by the name of prima donna, but this is not the saeco that we are talking about here. I considered another machine more "prima donna" -Primea Touch Plus.
The Saeco Primea Touch Plus is another winner from the many
Saeco coffee machines
on the market.
It has been designed by one of the world's leading design houses in the USA and boasts a range of features which elevate the coffee making experience to new levels.
Some of the features one would expect from commercial coffee makers, not necessarily a household coffee maker. The Saeco coffee machines are well known for their style and quality of workmanship and material used, so this Saeco Primea Touch Plus does not disappoint.
---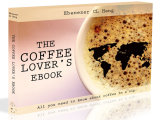 Love coffee? Here is some more "free stuff"! Learn more with this ebook (is free!)



---

Its sleek and elegant housing contains a grinder that has a revolutionary design. The grinders are not the usual conical burr grinders but are rather innovative ceramic disk grinders.
This innovation means that the grinding action of this Saeco coffee maker is quieter and the grinders remain clean because the ceramic disks do not absorb any of the oils.
This also helps to maintain the taste integrity of subsequent grinds and brews. It means that the chances of tainting subsequent brews with residues from previous grinds are reduced to a minimum.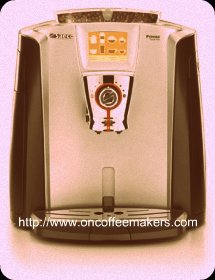 Your color touch screen control interface allows you the choice of six different beverages. You espresso becomes the platform from which a variety of hot beverages are launched such as your cappuccinos, latte macchiatos, etc.
All of these are available through the fully programmable features of this Saeco coffee machine. The hopper will hold 10oz of coffee beans which will allow for a number of espressos to be brewed.
An element that is important but often overlooked is the construction of the boiler of stainless steel. Why should this be important?
Stainless steel is able to remain clean and counters the buildup of deposits in your espresso machine. In other words there are no calcified deposits in the boiler which can taint the espresso you are making.
It goes without saying that the water reservoir, the drip tray and the dreg drawer are all removable to allow for easy cleaning and thorough maintenance. So, you can say that the Saeco Primea Touch Plus is built to last.
From a distance it might resemble one of the Gaggia espresso machines, but that is where the similarity ends.
This Saeco does not require any espresso accessories with the exception of your favorite espresso cup – or two of them as the Primea Touch Plus will brew and dispense two cups of espresso at the same time.
This machine will prepare espresso with perfect crema, flavor and aroma every time. So, if it so good, why not called this the prima donna?