This red coffee pot is smarter than it looks



That would be the red coffee pot by Eva Solo. It is common knowledge that smart must not always be equated with sophisticated. Sometimes simple things can be smart.
A good example of this would be the humble paper clip. This is very very simple device is actually smart. It will always work and is predictable in its efficiency. The same can be said of the red coffee pot by Eva Solo.
There are very many different devices in the marketplace with which you can make good coffee. If you want an espresso then you will need one of the more sophisticated coffee makers.
Normal coffee can be made with the standard drip coffee pot. One of the more popular makes is the Delonghi coffee pot. However, this red coffee pot is effective and yet very simple. At first glance it looks like a thermal carafe coffee pot.
---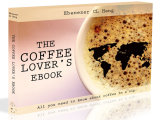 Love coffee? Here is some more "free stuff"! Learn more with this ebook (is free!)



---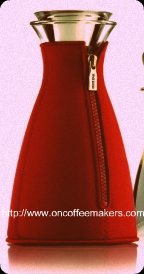 The surprise is that it is a all in one coffee making device. Once the interior has been rinsed with hot water so as to maintain temperature, you need to fill your red coffee pot with hot water.
To this hot water you add the coffee grounds. Ideally the coffee you stir into the hot water will be freshly ground. You must allow the coffee an opportunity to stand before you insert the filter through the top opening. Ideally you should allow the coffee to brew for four minutes. Thereafter one is able to serve the fresh coffee from the red colored coffee pot. This particular coffee pot has a lovely flip top lead which allows for easy pouring.
The great thing about this coffee pot is that it is complete a mobile. You can have fresh coffee wherever you have access to hot water. To those coffee lovers who have a sensitive talent which might pick up the taste of a paper filter this coffee pot is good news. This red coffee brewer does not require the use of a paper filter.
The new chilli red color coffee pot by Eva Solo is well designed and stylish as well. It will fit well into any design concept kitchen and does not require much space either.
It is easy to clean and maintain as well. Given that it retails for around $ 40.00 you now have access to a stylish yet easy to operate and well designed coffee pot that makes making real coffee real simple. A very smart coffee pot with a very simple design.