Which Pod Brewers Should You Choose?
Pod brewers come in different sizes, shapes, features, colors, designs, and of course different brands.
With the huge numbers of options, it is very important for you to consider what you need in a coffee maker. You have to consider the best coffee maker that suits your coffee drinking habit.
As a coffee drinker there are elements that would affect your choice in choosing pod brewers.
These elements are the cost, good coffee, variety, and office use. Let's review each of these elements.
---
---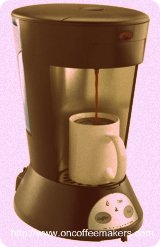 COST
If you prefer to go for low costs, then ESE pod brewers or Senseo coffee maker is the right one for you. These machines are the lowest cost you can find in the department stores or even in online stores.
ESE genre of brewers can be purchased in an amount of not over $100. You can purchase these brewers in your designated department stores and on the Internet as long as you have an access on it.
Maybe you're thinking that the price is inexpensive so it is low quality. Well, you're wrong! ESE pod brewers comes in different brands and they are said to be of good, high quality as well as the coffee that they produce.
Another machine that has low cost is the Senseo coffee maker. You can have this machine for an amount that ranges $65.
You can assure that even if this machine is inexpensive, it is still capable of giving you good quality coffee.
GOOD COFFEE
If you are really into the quality of coffee, then go for Nespresso. Nespresso coffee machines are all about coffee and nothing else.
With Nespresso, you get the best coffee that you ever wanted. They were designed to expose the delicate flavors and aromas of their exclusive coffee capsules.
However, Nespresso are not considered as pod coffee brewers because it uses capsules. These capsules contain the finest Grand Cru coffee. Aside from that, the capsules also are protected from air to maintain the freshness of the coffee inside it.
VARIETY
Currently, the company with the widest variety of drinks is Keurig. One of the machines of Keurig that offers variety of drinks is the Keurig K cups.
It offers over 70 varieties of drinks from coffee, tea, and hot chocolate. The k cups are branded. Such brands are Green Coffee mountain, Gloria jeans, Timothy's and etc.
OFFICE USE
If what you're looking for coffee maker that is best in your office, then Flavia coffee makers is the right one. These coffee pod brewers are fast turnaround, easy to use and maintain.
It has many various flavors to choose from. It also has many features that can create different types of drinks.
So these are the elements that affect people on what coffee pod brewers or coffee makers are they going to choose. Whatever element it is, you should still have to think what best suits you.
If you are looking for other single serve coffee machines, do check out our homepage.