Mr coffee ice tea maker is the solution for the undecided!



Mr Coffee ice tea maker best value add is probably its decision to have 2 pitcher for the tea lovers. In fact, it does not matter whether you are a tea or coffee drinker, you would like to have more choices right?
And that is why, I consider the Mr Coffee ice tea maker TMP30 2 pichter to be so essential. This is especially useful when you want to prepare a pitcher that is sweet and one pitcher that is less sweet for the health conscious folks!
If you read my article frequently (thank you!), you would see that this article is a total mis-fit into the theme of my site. I am doing a coffee makers website, what has a iced tea maker article have to do with coffee?
Well, other than being a very popular appliances in the consumer market, which I find is worth mentioning, nobody is stopping us to use this Mr Coffee iced tea maker to make iced coffee right?
In fact, its popularity would have to do with the fact that there is no much written about it! This is because it is so easy to use that you would not even need to refer to any instructional manual!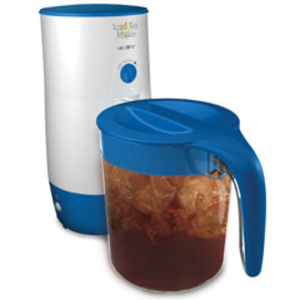 To brew great iced tea, all one need to do is to fill the pitcher to the water line that they desired, tune the settings they like, whether it is mild, medium or strong. Put the tea bags in the reservior basket and simply switch it on.
No worries if you want to use tea leaves instead of bags with mr coffee ice tea maker, you simply use a standard size coffee filter in the reservoir basket for the tea leaves. A tip from the many feedback that I garnered about using sugar is to put it before the brewing cycle, it would produce better sweet tea than putting it in after the brew.
One of the thing that puts people off from brewing coffee or tea is the prospect of cleaning it. For this Mr coffee ice tea maker, with its simple set-up, the cleaning is also very easy.
To eliminate the mineral deposit from hard or soft water, simply run 3 quart of 50% vinegar and 50% tap water through your tea maker -you cannot get any simpler than that right?
And that is my take on the Mr Coffee TMP30 ice tea maker, definitely a good appliance to be having on a hot summer day!