Mr coffee grinder is for the budget constraint






Mr coffee grinder is good for those that wants to try grinding their own coffee beans but would not want to spend too much on it. Now, personally I would advise getting a good coffee grinder as you would not not regret the decision to ground your own coffee.
However, in this really lean time and having to watch all our expenses,
mr coffee grinder
would be a good choice to turn to on saving money. A coffee grinder from this brand can go below $20 and although it is a blade grinder, this pricing is really unbeatable.
Do note that your expectations have to adjust accordingly for the price that you are paying. We all know that burr grinder is better and below $20, you must understand that it is not possible to get a burr grinder.
Now, just to prepare you for the grinding operation, if you are planning to grind good espresso grounds using mr coffee grinder, it is simply not realistic.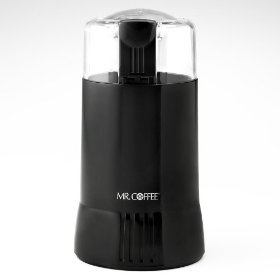 The usage for this machine in my opinion is to let you have a taste of how fresh coffee can be when it is served freshly ground.
The coffee ground from a blade grinder is uneven and inconsistent and the grinder makes more noise as the housing is not strong enough.
However, despite all these drawbacks, you would still enjoy the coffee that is brewed from the very freshly ground beans. The best mode to brew this would be french press or filter drip.
That is the reason why I recommend going for a better grinder right from the start rather than going for a grinder that is lower in cost. However, I must also give credit to the grinder from mr coffee.
Even though it retail at such low pricing, it reportedly can last for more than 3 years, which is really value for money!
Go for this grinder if you just want to "try it out", then subsequently upgrade to a higher end grinder when you are hooked to freshly ground coffee! Oh, you can always use this grinder to grind your other kitchen "stuff", so you would be wasting any money after all right?