The Melitta coffee grinder biggest advantage






Melitta coffee grinder single and best value add is it is from melitta. Other than its long heritage being in the coffee business, its dedication to provide the ultimate coffee experience is well known among coffee drinkers.
When it comes to the melitta coffee grinder, there are a few variety but all has the same value add. Snap in lidded container that would store either your coffee grounds or coffee beans. It can store up to 8 ounces.
While clogging might be a thing you would not associate with coffee grinder, many of them actually does clog! Of course, our melitta grinder has never had a problem with clogging, even if you grind right to the fineness of talcum powder.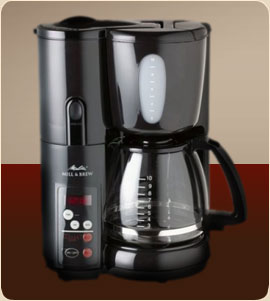 There is only burr grinder for the melitta grinder which means better coffee as burr reduces the heat generated by the grinder thus retaining most of the flavor and aroma of the coffee.
The melitta coffee grinder is one of the few that has a grinder selection of up to 18 selections. While you probably would not need that many selections, it helps you to really test out which selections really suits your taste profile.
Another factor that is not considered by many folks but is actually very important is the cleaning portion. And for the melitta grinder, the grinding wheel is an easy twist out for really easy cleaning.
The last thing which really adds value to you is the direct to brew function. Most of the grinder comes with a programmable coffee maker. Which means from grind to brew, it would take less than 3 minutes, something you would appreciate in the morning rush.
A lot of people would know melitta through its animated weather report on its programmable coffee maker, but not many people would take note that in the end, it is the coffee grinder that delivers the good coffee.
I guess it works hand in hand, the grinder is good because of the brewer, but the coffee maker needs the grinder for a fresh cup of coffee...