Machine snack used vending strategy to bring mash potato to YOU!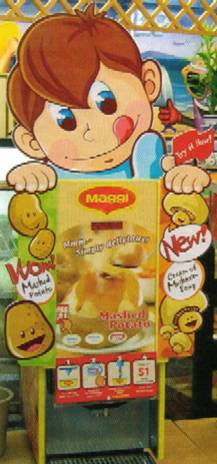 Machine snack used vending strategy to penetrate places like 7-eleven? Sure, you might be familiar with snack machines that function like drinks vending machine, but this is one that got itself into 7-eleven, what do I mean by that?
I guess you are having many questions, top of the list would be my meaning on the statement "machine snack used vending strategy". What does placement in 7-eleven has to do with vending strategy?
It is the convenience, a press of button and out come a snack. Reading until here, you might be giving me an incredible look, who in the right mind would place a snack vending machine in 7-eleven when they can just take it off the shelf?
Well, they would not be able to take it off the shelf, if it is a cup of hot mash potato. Yes, I am sure you have heard of all types of vending machines, and in this particular case, it is dispensing mash potato.
All that consumers need to do, is just press a button for the pipping hot potato complete with different types of gravies.
This snack machine functions exactly like a coffee vending machines. When consumers presses a button, the potato powder and the gravy powder are dispense into a mixing bowl. They are then shot with hot water, and dispense into a cup.
This hot liquid cools into mash potato top with your choice of gravy. The vending strategy is uncanny, as the snack machine choice of location is a 24 hours outlet, exactly the way a vending should function -24 hours. The similarity does not end there.
This mash potato machine from Maggi, uses powder similar to those of coffee vending machines and the whipper motor, mixing bowl are all similar in concept to a coffee vending machines. Now, you get the meaning of machine snack used vending strategy statement?
It is trade secret, so we would never know if this Maggi mash potato machine uses any Nestle coffee vending machine, like their Lioness machine. But from what I have gathered, this is a coffee tek machine, not a very popular coffee vending machine, due to its limited range.
This potato machine snack used vending concept, with free on loan policy to its customers, in this case, 7-eleven. And 7-eleven, has to fulfill a minimum order to enjoy the free on loan machines.
Vending strategy in their choice of placement, used vending concept and they might probably be using reconditioned coffee vending machines. So, would you not agreed with me that this potato machine snack used vending strategy to penetrate the market?


Wanna learn Something on coffee makers