Blue lavazza espresso machine has 3 arguments why you should have it!
Lavazza espresso machine probably can list ten other reasons why you should have it blue 2210 for your home use. In fact, being so renowned for espresso and gourmet coffee, why should it even bother to convince you?
Think lavazza espresso machine and the mental picture would be one of great coffee or smooth espresso. I don't work for lavazza, for I would only list 3 elements on why I would choose lavazza, particularly the lavazza blue 2210.
Of course, the very first thing is its ease of use. Being a single serve coffee maker, all you need to do is to open the drawer, drop in the capsule, press the button and enjoy the brew. With the ability to contain up to 20 waste capsules, lavazza takes away the task of clearing your waste after every brew ( as in customary for most single serve coffee maker).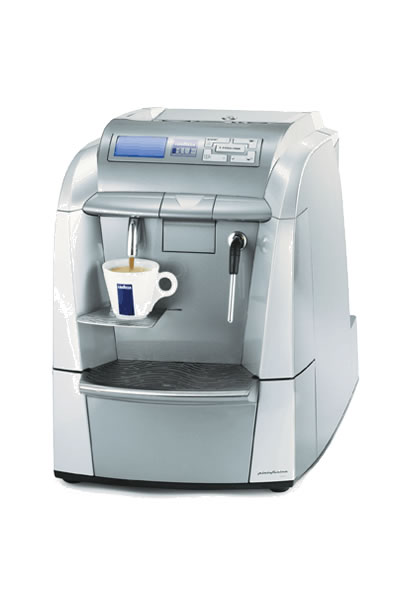 Of course, there is also no need to constantly check the machine if the lavazza blue has hit the maximum waste capsule as there is a sensor to remind of this situation. Automation and ease of use is the first element that would attract you to this machine.
Then, you might say -"all single serve coffee maker offers ease of use, don't they?", and you are right in saying that. So, this blue lavazza espresso machine , no matter how easy to use, is just like your typical single serve.
Now, this 2nd element is really me. Personally, I like a coffee maker or espresso machine that has an attractive exterior. And, when it comes to this department, not many single serve coffee maker, in fact not many coffee machines that match the blue LB 2210.
Lavazza actually teamed up with Pininfarina to come out with this sexy looking machine and more. When look from a certain angle, it got a sport look and it is functional enough to blend with any home decor.
Oh, for those that are thinking who is this Pininfarina, think Ferrari. Yes, they are the folks that design Ferrari, so not bad to be owning a coffee machine that are designed by Ferrari designers huh?
Sure, it is easy to use and it looks good, but lavazza is basically a coffee company, are they able to give us a quality machine that can last for a while?
I guess as a maker of such good espresso, Lavazza probably can come out with pretty mean machines, but in the quest to make this lavazza espresso machine to be one of the best, they actually teamed up with Saeco, Necta and SGL, all renowned espresso machines maker to give you the Lavazza Blue LB 2210.
This article almost reads like a who's who's in the espresso world, so I guess with so many strong partners involved in designing this espresso machine, this might be your lavazza you wanna check up...


Maybe you wanna know more about coffee makers?