Krups KP1009 piccolo coffee machine is a coffeemaker worth considering
Why would we say that krups KP1009 piccolo coffee machine is a coffee maker that you should consider?
This is because when we evaluate it based on the 4 Ps used to find best coffee maker, it meets most of them!
---
How we evaluate using the best coffee maker metrics
We evaluate and decide which are the better coffee machine based on how a consumer would view and think about their purchases.
Consumers would usually think about Price, ease of use (Phew), whether it can fit into their counter top (Plot), and of course if it is a popular brand.
Folks, interested in how we review coffee machines, can check out the link.
---
Basic Information about Krups KP1009 Piccolo Coffee machine
This is a single serve coffee maker that is powered by 1500 watts (which would gives you very fast heating).
Single serve means fuss free in using and cleaning. It uses Nespresso capsules, so quality is ensure.
And measuring just 8 by 6 by 11 inches, it is one of the smallest machine in the market.
---
Why we say that this is a machine worth considering?
Price
At less than $100 per machine before discounts, this is one of the lowest priced single serve coffee maker around. In fact, this machine is also priced lower than its other Nespresso cousins!
Phew
This is a single serve coffee maker, fuss free!
Popularity
Joint venture between two of the most popular companies, Nespresso and Krups. The former is a company that has been serving millions of quality coffee, the latter has produced countless of quality machines.
Plot
One of the smallest machine that you can find in the market.
---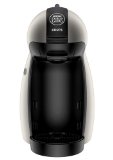 Regardless what we say about this machine, it is our metrics. Do learn and know more about the KP1009
, check out the link. Equipped yourself with more information before making any purchase.
To read about other krups articles that is similar to this Krups KP1009 Piccolo Coffee machine, check out our krups homepage.
---

Your views and comments of krups KP1009
Your reviews and comments about Krups 1009? Share it!
What Other Visitors Have Said
Click below to see contributions from other visitors to this page...

Krups km4065 or Nescafe KP1009 piccolo Not rated yet
Today I came across two kinds of coffeemaker and I have to choose the one which is simply the best in all aspects. The krups KM4065 machine is programmed …