This Krups 4 Cup Coffee Maker Gives 10 Cups of Coffee!



On the specifications for krups 867-42 II cafe Bistro, it says that this is a Krups 4 cup coffee maker when in fact; this machine brews 10 cups of coffee and 4 cups of espresso.
If you're looking for a decent dual purpose coffee and espresso maker, the Krups 867-42 II Café Bistro is one of the few affordable espresso and coffee makers out there that can fit the bill.
This Krups dual purpose machine efficiently combines a 10 cup coffee maker and a 4 cup espresso machine, allowing it to satisfy all your coffee needs as a single and compact unit.
It has separate water tanks for the coffee maker and espresso machine, and can brew both coffee and espresso simultaneously.
---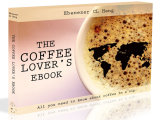 Love coffee? Here is some more "free stuff"! Learn more with this ebook (is free!)



---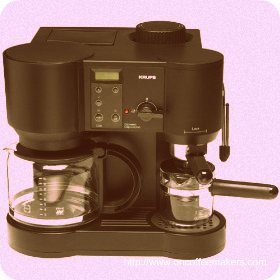 First -The Krups 4 Cup Coffee Maker that gives 10 cups
This Krups 4 cup coffee maker has all the features that make it both convenient and easy to use. It boasts a timer and programmable function, allowing you to wake up to a freshly brewed pot of coffee. It brews coffee into a 50 ounce glass carafe, and keeps it at the optimal serving temperature with a warming plate.
It also has a convenient pause-and-serve function that allows you to pour a cup before it has finished brewing.
Removing the carafe from the warming plate pauses the brewing process, and resumes once you return the carafe. As a safety feature, the coffee maker automatically shuts off two hours after brewing.
Brewing a pot of coffee follows tradition. Simply insert a filter into the filter basket, fill it up with coffee grounds, fill up the water tank, and press the brew button.

Then -the Krups 4 Cup coffee makers gives 4 Espresso
Surprisingly, the Krups 4 cup espresso machine performs adequately. With it, you can make great cups of espresso, lattes, and cappuccinos.
It comes with a steam nozzle with a frothing attachment, allowing you to steam and froth milk for lattes and cappuccinos. With other dual purpose coffee and espresso machines, you may not get an abundant amount of froth for your milk-based espresso drinks.
Not with this machine. It can surprisingly create an abundant amount of froth.
Similarly, making espresso also follows tradition, and requires some home barista skills with tamping and dosing.
Nevertheless, this makes this machine an affordable choice for those who want to hone their skills in making espresso.
While this 4 cup espresso machine may not be able to outperform the more expensive stainless steel espresso machines from DeLonghi Coffee, it can still performs adequately.
The Krups Café Bistro 10 Cup Coffee Maker and 4 Cup Espresso Machine
At just around $100, the Krups Café Bistro 10 Cup Coffee Maker and 4 Cup Espresso Machine is a great value purchase. Not only does it perform well, but it has an operating lifespan of over 10 years.
A lot of people swear by their own Café Bistros, and it has exceeded all their expectations. This makes the Café Bistro one of, if not the best, coffee maker and espresso machine in one.