This kitchenaid grinder is a silent worker



This kitchenaid grinder, the pro line KPCG100 makes very little noise while grinding. To some of you, it might not be a crucial point, but I would explain why this is an important point.
Firstly, we know that loud noise is very undesirable when it comes to grinding, it is just like those nuisance junk music. But, for coffee grinders, it is more than that.
If your coffee grinder makes loud noise while grinding, one of the reason could be its unstable base and this would lead to uneven and inconsistent grind size.
Another reason that coffee grinding would be making loud noises might be because of faulty blades of burrs. This would also generate high heat which would lead to a loss in flavor. This would not be the case for this kitchenaid grinder. Even when you are handling this pro line kitchenaid coffee grinder, you know that it is a stable grinder -it is very heavy. Its all metallic base provides the stability that is required to produce even and consistent coffee grounds.
Now, when you start using it, you would know that this kitchen aid pro line is very low in its noise level. The gear reducing function that is in this kitchenaid coffee grinder ensure that noise is kept to the lowest.

"See" how low the noise is yourself...

With lower noise, this would meant a lower heat generated and more of the coffee flavor are being retained inside the coffee grounds.
Because of the smoothness of its burr blades, there is no need to clean it after every grind. If you use it daily, you probably need to unscrew the burrs and clean it once every two weeks.
That means, all you need to wash are the hopper bin and the coffee bin, which make this kitchen aid grinder one of the lower maintenance model around.
Some of you might not be familiar with the quality of kitchenaid grinders, but I am sure most of you would have heard of their kitchenaid blenders, or maybe some of you know about the kitchenaid pro 600 mixer.
This brand makes quality product, period.
Oh, I guess there is not a need to go into the details of using this kitchenaid coffee grinder, which is pretty straight forward. You can refer to the pictorial to see how easily it is being done.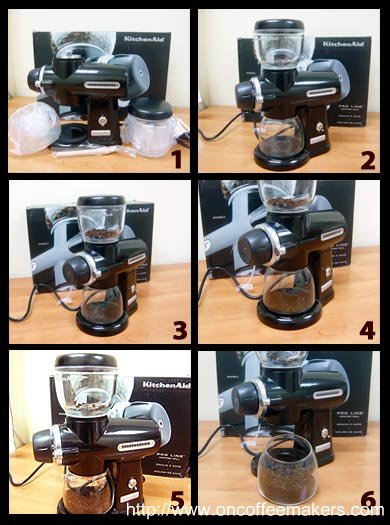 ---
This review about kitchenaid pro line grinder is make possible, thanks to the machine send over by everythingkitchen.com. Do check out their site for any of your kitchen needs, the range is amazing.
---