Keurig machines would be free if you are...



And the keurig machines which you would be getting free is not the cheap b30 but the almost $250 office pro brewing system. of course, there is some catch to getting this keurig coffee maker free.
The first one is of course, it must be for office consumption. Keurig is very generous by offering their keurig machines free on trial and it would comes together with some free k-cups for you and your office folks to test if the machine is suitable.
There are other criteria as well, one of them would be the office size. I do not think they would want to supply a machine for trial to an office that has only 2-3 person. This is because moving forward, it is not the machine which they would be earning the income but the k-cups.
The free trial model is not new in the market, although for single serve coffee maker, keurig is the first that I know to offer such services. The free trial model has been done for most table top vending machines and the most aggressive would be the Lioness machine.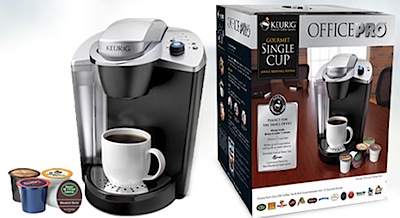 While this lioness does not serve as good coffee as the keurig machines, it can also dispense the whole range of gourmet coffee, from a long black to an espresso. And it is also a one button push technology.
The lioness limitation is in its taste profile. It is serving coffee from a freeze dried format while keurig coffee maker serves coffee that is similar to any roast and ground coffee machines, brewing it straight from the coffee grounds.
And the office pro system takes the single serve convenience one step further by allowing you to brew straight into a travel mug. This would allows you to have coffee in your cubicle for hours to come.
Now, the tough part we know is not about getting the free keurig machines but getting the management approval. Let me help you with that, in my free coffee ebook, I have detailed steps on how to get the management approval, download it to see if it is works, it is of course free.
Well, if everything runs according to plan, you should be getting your coffee pretty soon. I know that you would enjoy the coffee, and I wish you the best in getting this keurig coffee maker to be a permanent feature in your office (the free ebook would show you how too!).