Jura coffee machine gives you cappuccino with a single touch!
The Jura coffee machine which I am talking about is the Impressa Z6, superautomatic coffee machine. Reading on, you would understand the term, superautomatic.
Single serve coffee maker comes and really threatens the market share of the automatic espresso machines. However, to some coffee lovers, the grinding sound and the gushing steam that is so characteristic of an espresso machine is simply irreplaceable.
Of course, we all know that you need a certain among of skills to used the espresso machines, to brew a characteristic espresso and cappuccino. That is, if you are brewing it using all espresso machines other than this Impressa Z6.
Prior to anything, let me highlight the beauty of this jura coffee machine. Impressa Z6 comes with luxurious finish with a chrome plated aluminum front, a mirror led display, a polished zinc die-cast oversize drip tray and a stainless steel milk container.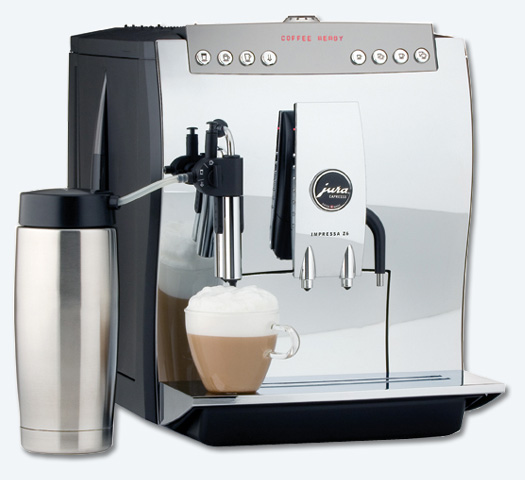 Sure, this espresso machine is a beauty, but so is so many other espresso coffee makers right? The difference is this espresso machines brew cappuccino, cafe latte, espresso, mocha etc all with just a button push. And, it is on par, if not better than what most automatic espresso machines produces.
Yes, this jura coffee machine is not a single serve coffee maker, but it produces espresso or any gourmet coffee with one button. The Impressa Z6 would grind the whole coffee beans, dosed it, tamped it then forced hot water under high pressure to extract the coffee oil and flavor from your chosen coffee blend.
If you are still thinking about it -Yes. The cappuccino is served complete with froth using the original cappuccino configuration of 1/3 espresso, 1/3 milk and 1/3 froth. With the Impressa Z6, the cold milk is automatically steamed, frothed and poured into the cup.
This jura coffee machine is able to "remember" and execute all this brew mainly with the help of its 8 pre-set beverage buttons. It allows you to pre-set ristretto, espresso, cappuccino, cafe late and even a cup of tea!
One button cappuccino should be able to get tons of people queuing for the Jura impressa Z6. But, I would really like to highlight another thing that I love about this espresso machine -the low noise design.
From the construction to the materials, all efforts are make to ensure that the noise level is kept to a minimum. And after seeing it in action, one would have to agreed that this jura coffee machine is indeed one of the quietest in the market...


Looking for a "simpler" coffee makers?