Juan Valdez pod coffee maker is not easy to find...



Even before talking about Juan Valdez pod coffee maker, what exactly is a pod coffee maker?
In terms of ease of use and convenience, nothing beats a pod coffee maker. Pod coffee makers are easier to use than regular drip coffee makers because there is no need to measure, grind, and transfer coffee grounds.
Furthermore, there is no need to worry about stocking up on paper filters or investing on a permanent stainless steel mesh or gold tone filter.
All it takes to brew a cup of coffee is to insert a coffee pod into the machine, press the brew button, and wait for your cup to be filled up with a glorious cup of coffee.
---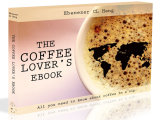 Love coffee? Here is some more "free stuff"! Learn more with this ebook (is free!)



---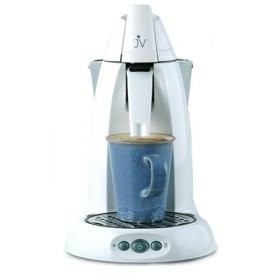 After that, just dispose of the used coffee pod and the machine is ready to brew another cup of coffee.
When we think of pod coffee makers, there are some brands that immediately come to mind, namely Senseo, Cuisinart, and Melitta, among others.
However, there are other pod coffee makers in the market, and some come from very obscure brands, which you've probably never heard of.
One of those little known pod coffee makers is the Juan Valdez Pod Coffee Maker (JVPM1W). Although you've probably never heard of this Juan Valdez coffee maker, don't write it off just yet.
First of all, it looks really good and it will definitely stand out amidst all your other kitchen appliances. It boasts a very robust design and comes in either white or black.
The Juan Valdez Pod Coffee Maker is able to accommodate both coffee and tea pods, therefore, you can enjoy a cup of coffee or tea to your heart's content.
It features a 2 ½ bar steam pump pressure system, which allows it to brew full-bodied coffee or tea.
It also features a universal pod holder, which is rare among pod coffee makers, accommodates a wide variety of coffee pods, from Juan Valdez Pods to Senseo Douwe Egberts Pods. The Juan Valdez Pod Coffee Maker also features a convenient, removable 40oz water tank. It can also be set to brew for a 5oz cup or an 8oz cup.
Furthermore, the unit features an adjustable brew spout, which allows the machine to accommodate either small a small coffee cup or a tall coffee mug.
Overall, the Juan Valdez Pod Coffee Maker is a good addition to the single serve pod coffee maker market, giving consumers more alternatives and choices.
Furthermore, this machine gives healthy competition to the already established brands mentioned earlier. Best of all, this is a great value machine, since it only costs around $40.
The only problem with this coffee maker is that it isn't easy to find. It always listed among online stores as unavailable.
Nevertheless, if you're looking for a great value pod coffee maker and you happen to come across a Juan Valdez Pod Coffee Maker (JVPM1W), don't hesitate to get one for yourself.