Grind and Brew Coffee Pot Spoils Coffee Easily?



Grind and brew coffee pot is part of the grind and brew coffee maker. So, what is a grind and brew coffee maker? To put it simply, it is a coffee maker that comes with its own coffee grinder.
There are so many grind and brew coffee makers out there in the market today, primarily because it is a popular purchase, since its more convenient than to buy a coffee maker and a grinder separately.
However, using a grind and brew coffee pot has one drawback, though, especially if the grinder that comes with it does not perform as well as the standalone coffee grinders.
If it makes the ground coffee too fine, they tend to slip through the filter and into the coffee pot. What results is that the coffee pot tends to have coffee grounds in it.
---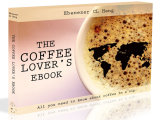 Love coffee? Here is some more "free stuff"! Learn more with this ebook (is free!)



---

Perhaps you've experienced this at least once. Have you had a cup of brewed coffee, and as you finish it, you see sediments at the base of your cup?
Those are actually ground coffee that found its way through the filter. The danger when ground coffee finds its way into the coffee pot is that if it goes unnoticed for too long and the coffee pot is not well taken care of, it affects the taste of the brewed coffee by making it cloudy and grainy.
This is magnified if the coffee pot sits on a warming plate for too long. What happens is that the coffee along with the coffee grounds at the bottom of the pot gets burnt.
When you pour a cup, the burnt coffee and grounds at the bottom mix with the acceptable coffee at the top, thus resulting in a disappointing cup of coffee. Not only that, but there will be a build up of burnt coffee residue in the pot. If the coffee pot is not washed well, the residue might remain in the pot.
However, this does not mean that using grind and brew coffee pot is generally inferior to using standalone coffee makers and coffee grinders. If you're thinking about purchasing a grind and brew coffee maker, it's important to read expert and customer reviews first.
Find out which ones fit your budget, and read and compare the reviews about them. How does the grinder work? Does it grind as long as you press the grind button? Or does it allow you to select the consistency of the ground coffee?
Does it grind the coffee beans consistently according to the selected consistency? By reading reviews about the grind and brew coffee makers that you're choosing from, you can make an educated decision that does not lead to regret in the end.