What is green mountain coffee maker?






Finding green mountain coffee maker on the internet would be furtile. What you would see on the top 10 searches are keurig Single cup coffee maker. Looking through any coffee maker ratings, you would never see reviews or ratings on this coffee machine.
This is because, there is no one machine that is known by the brand
green mountain coffee maker
. Green Mountain is essentially a coffee roaster that was established in 1981. They are known first by their exceptional coffee than later by their mail order system.
After coffee drinkers started ordering their coffee via the mail and later online, the folks in green mountain decided that they probably need to have a brewer to make those coffee and from there, you have your keurig coffee maker.
In partnership, keurig is currently one of the more popular single serve coffee maker, in fact, one of the more preferred coffee machines across all genre of coffee makers. Their popularity has a lot to do with the great coffee that people are able to brew from the Green Mountain coffee pods.
So, if you are looking for a green mountain coffee maker, then you are probably looking for a keurig. This is because other than keurig, green mountain does not have a better coffee machine.
The single cup concept meant that this machine is very easy to use and maintain and to make it even better, they have different capacity to cater to the different groups of coffee drinkers.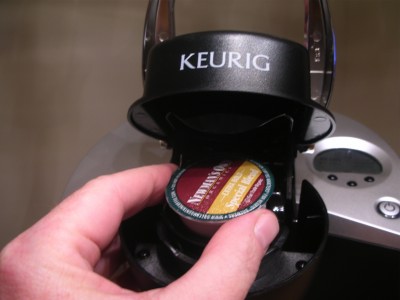 If you are just buying it for a small household consumption, the Keurig B140 would be most suitable, for a larger family, perhaps a B200. And if you are in an office environment, the higher capacity would require a Keurig B3000.
This different category mitigate the single biggest problem associated with single serve coffee maker -the servings! While single serve has a lot of value add, its greatest drawback is its ability to serve one cup only at a time.
But, with a faster brew and higher capacity of Keurig B3000, this issue is irrelevant. Green mountain ensures that there would be a relevant coffee maker for your consumption needs.
Green Mountain is known to be a great roaster of coffee and coupled with Keurig coffee brewer technology that is able to extract the coffee essence fully, you are assured that the superb coffee from them would not be ruined by a lousy coffee maker.
While there is no brand known as Green Mountain coffee maker, you can consider Keurig to be this coffee brewer and if you are considering a good brewer to make Green Mountain roast, this is the machine!