Get mypressi TWIST if you want an espresso easily
Why are you here? My guess is, because you love your espresso, in fact you love it so much, you hope to have it at home.
So, why not? Perhaps it is the difficulty in preparing an espresso or maybe it is the hassle of cleaning an espresso machine? And these are some reasons why we are introducing mypressi TWIST to you.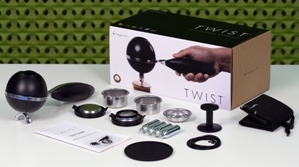 An espresso maker that prepares an espresso with no fuss and with no movable parts, cleaning is a breeze.
Limited mypressi TWIST sets at a special offering price of S$318 (delivery included), you would get:

1 x Pressurised double shot basket
1 x Standard shot basket
1 x ESE pod adaptor and single shot basket
1 x 53mm tamper
4 x 8g N2O pressure cartridge
1 x Travel pouch
1 x drip catcher coaster
1 x O-ring replacement kit

S$318
---
So, just exactly how a mypressi TWIST prepares an espresso:
---
What others are saying about mypressi TWIST
"9 out of 10" - Wired, Editor's Pick October 2009
"I would take the TWIST over anything made by FrancisFrancis!, Krups ..." Oliver Strand, New York Times February 2010
"The crema is out of this world..." Martha Stewart Living, October 2009
mypressi TWIST was also chosen as the Best New Product 2009/2010 by Specialty Coffee Association of America

S$318
---
Not ready, but would like to reserve a lot for the next batch
I am not ready yet, maybe would just placed a reservation and when the next batch comes, informed me and then I would think about it.