Wished for free Starbucks coffee? Here is how you can get it.



Free starbucks coffee, it is possible? Who doesn't want stuff for free? I am pretty sure that no one would ever turn something down that they wanted if it was offered to them for free.
On hears people often say, "there is nothing such as a free lunch" meaning one doesn't get things for free. But what if? What if you could get stuff for free?
What if it happened to be your favorite beverage – Starbucks coffee? Free Starbucks, now that would be a treat! Herewith are some ideas of how to go about getting free coffee, or any other of the Starbucks products on offer.
---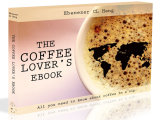 Love coffee? Here is some more "free stuff"! Learn more with this ebook (is free!)



---

There are, of course, the obvious sources of free coffee. Often a new Starbucks location will offer a free coffee to the first group of customers.
That is a good way to get free coffee, or even a free Starbucks frappuccino. But you cannot race around the state looking for opening specials of new Starbucks locations, it is just not sustainable.
Another tactic could e to meet people at the local Starbucks and plead poverty. However, it is quite likely that your circle of friends will diminish at a steady pace and so will your chances of getting free cuppa.
You could of course seek out a Starbucks with an attractive Starbucks barista in the gender of your choice. You could pursue a relationship with this Starbucks barista for the sole purpose of scoring free coffee. Shallow? Perhaps, but is not all fair in love and war in the pursuit of free Starbucks.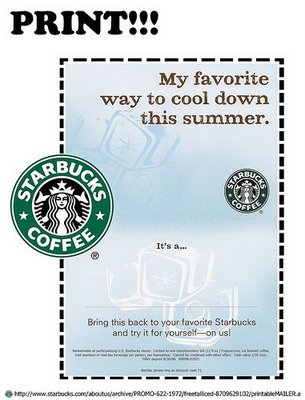 Paying attention to promotions could pay off as well. Starbucks offered free coffee to all those who went to vote in the American election last November.
Do your civic duty and get free coffee. In Canada, Starbucks offered free coffee on Earth Day. Another way to score free coffee, without seducing a Starbucks barista, would be to register on the Starbucks website and supply them with your email and postal address.
In return you will receive a coupon for free Starbucks coffee. There have been attempts to make illegal copies of Starbucks coffee coupons. This is against the law. Starbucks baristas are trained to spot counterfeit coupons – this avenue of obtaining free coffee is to be avoided at all costs.
In some communities, volunteers for community service organizations are rewarded with Starbucks coupons. You can do some good for the community and earn yourself free coffee from Starbucks at the same time. Now that must be a bargain.