FoxRun Craftsman the name to take care of your espresso needs



FoxRun Craftsman; the name to take care of your espresso needs. This sounds like a bold statement to make of an online store that offers its clients everything from cookie cutters through barbeque sets to bar accessories.
So what does the FoxRun Craftsman online store have to offer the coffee lover?
Unfortunately, form a coffee lovers point of view, their selection of coffee accessories have been "contaminated" by a variety of tea pots and tea accessories.
Nevertheless, in amongst this you can find cappuccino stencils, manual coffee grinders, stainless steel coffee scoops and stainless steel frothing pitchers.
---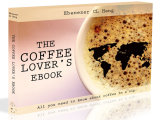 Love coffee? Here is some more "free stuff"! Learn more with this ebook (is free!)



---

All of these FoxRun Craftsman products come with their quality assurance that is not to be taken lightly. The selection of barista tools is, admittedly, not necessarily comprehensive.
But, what you need can be sourced and ordered for you. Of course whilst you are there it might be of use to look at all the other categories of products on offer.
Some of the selections, such as the kitchen gadget selection is pretty comprehensive. The same applies to the utility section. This section also contains a large range of FoxRun Craftsman parts that can be ordered online.
There are more than two hundred cookie cutters from which to choose from. That is an extensive range of choice! However the barista accessories that are on offer do not necessarily represent the definitive range.
The basics are there and the quality of goods are assured. The frothing pitcher, which is offered in two sizes: a twenty ounce pitcher and a thirteen ounce pitcher are made of 18/8 stainless steel. This is a good quality of stainless steel.
Then there is the manual coffee grinders that come in a variety of designs. They range from a light wood design through to a stainless steel design.
They all make use of a traditional grinding mechanism to produce coffee grounds from freshly roasted coffee beans. All of these products can be ordered online.
Given that the FoxRun concept is aimed at the wholesale trade potential consumers should be alert to the volume of items they might be purchasing.
Some of the items are sold in multiple qualities which is perhaps not necessarily what a customer in a domestic context might be looking for.