Where Can You Get The Best Espresso Maker Reviews?
Doing a espresso maker reviews is tough. A lot of espresso manufacturers advocates that their products is the best among the other manufacturer.
However, it is not them that decide if these products are the best; it is indeed the consumers who use it. This is where the so called product reviews come into play.
Espresso maker reviews are created by the consumers who have experienced using the said product.
They won't hesitate to tell what they have experienced, be it good or bad. They post this reviews on many sites found in the Internet.
There are hundreds if not thousands of sites doing espresso maker reviews. Some of the better ones are coffeegeek, singleservecoffee, oncoffeemakers, and of course the Amazon.
---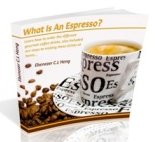 This is an ebook that shows you the differences between the various popular espresso drinks. In addition, there are some tips on how to prepare them as well.
It is not a guide to be a baristas nor would it identify the difference between a wega espresso machine from a saceo machine.

---

Coffeegeek.com
Coffeegeek.com is one of the best website that makes reviews on espresso maker. This website is devoted to coffee lovers all over the world.
Coofeegeek.com covered everything from the worst and best tasting coffee. Products and various coffee types in different countries of the world are also covered in this site.
This site is divided into five sections. These sections are the "Guides and How tos", "Consumer Product Reviews" and "CoffeeGeek Reviews", "Opinions", "Resources", and the "Forums". Each of these sections has its own role to offer to the consumer who is viewing the site.
Singleservecoffee.com
This site is another site which makes the best espresso maker reviews. This website is founded and created by Jay Brewer.
This website is created to search and review every coffee machine that is being introduced by many manufacturers.
You are welcomed in this site to test or to review your product. You can also found many reviews about single serve coffee, K-cups, coffee pods and many more products.
OnCoffeemakers.com
This site is created and established by Mr. Ebenezer Heng. You would not only find here espresso maker reviews, but you can also find some articles that will help you choosing the best coffee products.
You can learn in here things about the top manufacturer of coffee machines like Cuisinart, DeLonghi, Capresso, Keurig, Krups, Melitta, Mr. Coffee, and of course Saeco.
You will also find in here the different types of espresso maker, Cappuccino maker, French press, and many more. You'll find more in this site when you try to browse it.
Amazon.com
This site is the best among all the sites that makes espresso maker reviews. This sites offers a review created by the most realistic and actual person which is using the machine.
You'll find in these site some helpful reviews whether it is good or bad.
Moreover, this site is proven to be of high quality and sell products that are with good brand.
The price also that this site is offering is much cheaper when compared to other sites like eBay. You can also assure that the products you purchase in these sight is tested to be new and not a second hand.
So if you have time to go for one site, then it would be amazon.com. You will definitely love this site because of the helpful reviews it covered. You can also assure that the product you buy in this site is all worth it.
And since you are already at oncoffeemakers.com, why not spend some time reading more about other coffee machines on our homepage?