Worth getting that espresso machine repair?
Espresso machine repair used to be only applicable for commercial machines. But, with home espresso coffee maker getting more expensive, their owners are turning to repairing instead of changing it.
Imagine a Miele build-in coffee maker can retail close to $3000.00, if it breaks down, would you be getting a repair for $200? In this case, the espresso machine repair cost is justifiable.
To assess if a repair on the espresso machine is worth the while, we should evaluate based on the cost of the machine versus the cost of repairing it. The rule of thumb is, if the cost of repairing the espresso machine is more than 40% than, you are better off getting a new unit.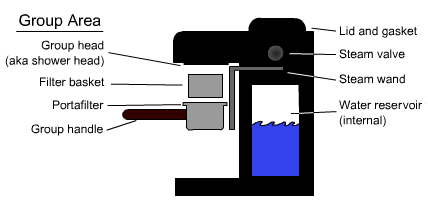 They are 2 major types of espresso machine repair, one is a preventive maintenance, another is the breakdown repair. The latter is straightforward, when your espresso machines breakdown, you send in for repair, and that is what many home users are doing.
Preventive maintenance is similar to the servicing of your car, you maintain it to prolong the life-span of your espresso units. Commercial coffee machines used by cafe and coffee shops does that to lengthen the operational lifespan of their coffee machines.
While preventive maintenance is still not wide-spread among home users, some sellers for Miele and other high end brands are offering maintenance services to attract home users to buying the coffee machines from them.
Now, let's revisit the question -it is worth getting your espresso machine for repair? Other than the 40% rule on espresso machine repair cost cannot be more than the cost of your coffee machine, do consider the practicality.
Why do I say that? For example, if you have a Rancilio Silvia for $400, you would need to find a repair company that charges lower than $150 (less than 40%). However, if what you have is a boiler issue, then it would cost more than that -would you get it repair then?
Because most folks would be spending between $200-$600 for their home espresso machines, usually the repair cost would be about 40% of the unit retail price. So, personally, I find buying a new unit more practical for most owners for home coffee machines.
Other than the joy of owning a new espresso machines, when buying a new machine, you might change the make and model of machine as you are now more familiar with espresso making.
It could be a situation where you are simply too tired to be grinding, dosing and tamping just to drink that espresso, so you might want to get a single serve coffee maker...


Not repairing anymore, wanna look for some coffee makers?