Elektra espresso machine pulls you a great shot of espresso!
Mentioned elektra espresso machine and the imagery that comes to your mind would be the big food service type of commercial espresso machines that are meant for the coffee shops and cafes. And, you are almost right as elektra core business is to cater to the commercial customers.
However, for this article we would be discussing about the Elektra Micro Casa a Leva, it is a lever spring piston elektra espresso machine. It is still a commercial espresso machines but perhaps if you are wealthy enough to invest in your coffee hobby, this is a machine that maybe can fit into your house kitchen.
This elektra espresso machine allows you to pull a shot, and is very similar to La pavoni espresso machine, it has the exquisite look and feel and is a very hands on machine.
It is a spring piston lever machine and it is this spring piston lever that makes or breaks your espresso. Some coffee gurus says that the apt use of the spring piston lever allows one to pull a better espresso than any commercial automatic espresso machines in the market.
Of course, the term here is the "apt use" and if you are someone that loves coffee but hate reading instruction manuals and would not want any theatrics to go with your coffee, then stick to single serve coffee maker, which you would find a section dedicated to it in this site.
A lever machine requires much more care and attention to your coffee than the semi-automatic like the Rancilio Silvia or Gaggia classic. So, you must be someone that wants (I should use the term "love") grinding, tamping and dosing your own coffee ground if you want to own a Elektra Micro Casa a Leva.
---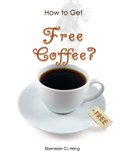 If you are here, you love to drink coffee. So, what would you say if you can get free coffee in the place where you spend most of the time? Or, would you be interested in getting free coffee and save enough to send you for a short holiday?

Tell me more about this free coffee...





---
If you asked me whether this elektra espresso machine is complicated to use, it is actually not so. It is more of the art of perfecting the use of it. You would use it as per any other automatic espresso machine, turning it on, heating it up. Then loading the filter basket, tamping it hard and loading the portafilter into the grouphead.
The main difference is you would push the lever down (manual says to be very slow and steady), this is to load the internal spring.
Then you wait for approximately 10 seconds until you see dribbles of brew coming out of the spouts. When that happens, you release the lever. If you are making a single shot, pull the lever all the way, if it is double, pull 2/3, grip the lever then push it down again to bring more water into the brewing chamber.
That is all, nothing complicated about this Elektra espresso machine, but perfecting the use of it, might require some time, so if you are into "espresso", this is a model that you might consider taking...


Not the coffee makers that you are looking for -try here...