Cuisinart charcoal filter must be exchanged every 60 days



Why talked about cuisinart charcoal filter? The ingredients of a good cup of coffee start with the coffee machine. Fortunately there are a large range of excellent coffee makers available.
The large range of Princess coffee makers on offer is a good example here of. As all coffee lovers know, there are a few fundamental ingredients which one needs for good coffee. The right temperature of the water, good coffee beans and a good grind are all components of a good coffee.
What a pity that "bad" water is very capable of spoiling good coffee. Bad water is water that is tainted by additives, minerals and or impurities in the water which influence the taste of the coffee.
The water is technically clean and safe to drink, especially if it comes out of your tap. However, what is good for you might not necessarily be good for the coffee you are wanting to brew.
---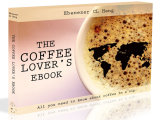 Love coffee? Here is some more "free stuff"! Learn more with this ebook (is free!)



---

Fortunately the Cuisinart commercial and domestic coffee machines are fitted with Cuisinart charcoal filter which have been specifically designed to remove everything that can influence the taste of the coffee.
The Cuisinart coffee machines have many components designed to enhance the coffee experience. The Cuisinart coffee filter is a case in point. However, the Cuisinart water filters are a new development aimed at taking the enjoyment of coffee to the next level.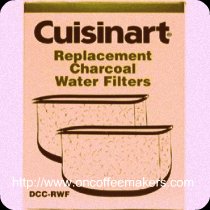 The natural charcoal content of the filters is designed in such a way as to act as an effective filter of the water that is passing through it. What ever needs to be removed from the water is removed and stored in the filter.
The question that must arise is when do the charcoal filters have to be exchanged? Generally speaking, the Cuisinart charcoal filter will last for sixty days. Then it needs to be replaced. Given that the filter lasts for as long as it does, there is a real danger of one forgetting to replace the charcoal filter timelessly.
That then defeats the purpose of having a filter in the first place. Fortunately one can sign up for a Cuisinart water filter subscription service. This nifty service means that Cuisinart will remember for you when the filter needs to be replaced and will send you a new one.
When the new one arrives, it serves as a reminder that the time has come to replace the old charcoal filter. It is easy to join the subscription service and will help towards maintaining a high standard of enjoyment of coffee.