They have so many coffee capsules on different types of coffee



The coffee capsules on offer within the Nespresso coffee system allow for a delightful exploration of coffee types and aromas from across the coffee world.
Essentially, the Nespresso pods are the best espresso, the
coffee pods
or capsules can offer. The espresso capsules cover the full range of types of espresso that can be enjoyed in a small coffee cup.
In their espresso range Nespresso offer nine different espresso experiences, each with a name more exotic that the one before. The types include Ristretto, Arpeggio, Roma, Livanto, Capriccio, Volluto, Cosi, Decaffeinato Intenso as well as Decaffeinato.
These form the foundation on which the popularity of the coffee capsules from Nespresso have been built. Each Nespresso capsule contains a coffee espresso journey that needs to be explored individually.
---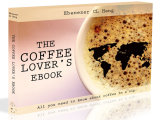 Love coffee? Here is some more "free stuff"! Learn more with this ebook (is free!)



---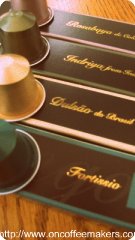 It is always important to remember that the Nespresso concept goes beyond simple coffee vending machines. The Nespresso capsules are self contained masterpieces of espresso in their own right.
There is no more to add. Simply insert the coffee capsule of your choice and the espresso that is the result cannot be improved upon.
However, the coffee adventure does not stop there. In an attempt to accommodate those who feel the need to enjoy something more substantial than a small espresso, Nespresso has introduced the Lungo Blends range.
These coffee capsules provide the ingredients for a larger coffee cup and come in four different flavors. The Lungo range includes the Fortissimo Lungo, the Vivalto Lungo, the Finezzo Lungo and the Decaffeinato Lunga.
Each of these capsules contains a coffee experience worthy of the most particular coffee gourmet. Over and above this range and selection of capsule experiences, Nespresso also offers a range of limited edition coffee blends in capsule form.
This will vary in flavor and strength based entirely on which new coffee sources have been incorporated into the range and which blends have been crafted by the Nespresso coffee experts.
The "Limited Edition" range of coffee capsules on offer will invariably be made up of coffee with an exceptional character and flavor.
The so called "Special Club" coffees are coffees that come from new coffee producing regions. These coffees are introduced to the Nespresso capsule system as an extension of the global coffee experience.
Special Club coffee selections can include coffee from Mexico, India, China, Ethiopia and Papua New Guinea. Here coffee lovers can taste the coffee wonders from different parts of the globe.
Finally, the Nespresso coffee system offers the range of "Pure Origin "espressos. These come from India, Colombia and Brazil and are designed to express the flavor and aroma so typical of the coffee of their land of origin.