Capresso coffee pot is the reason for buying this Capresso machine



At first it does not quite seem plausible that the Capresso coffee pot would be a major factor in determining the purchase of the Capresso MT500 coffee machine.
But the fact remains that this coffee pot will save you money. The Capresso coffee pot is a thermal coffee pot. This means that the coffee that is brewed into it will remain hot for quite some time.
There is no chance of the coffee becoming bitter because it has been sitting on a warming plate for two hours. We all know the feeling of disappointment when we lift the carafe out of the coffee maker and get that whiff of burnt coffee.
It is basically unpalatable and yet a surprisingly large number of coffee shops try and "dispose" of burnt coffee through their regular sales.
---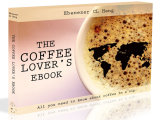 Love coffee? Here is some more "free stuff"! Learn more with this ebook (is free!)



---

Of course espresso cappuccino machines are designed to dispense their brews into the correct serving cup immediately and do not have this problem.
I yet have to read any one of the many espresso machine reviews available where they make mention of burnt coffee. Of course, commercial espresso machines are even more finely tuned to produce perfect espresso time and again.
However, the Capresso MT500 with its Capresso coffee pot is a drip coffee maker that has successfully circumvented this problem by allowing the coffee to be brewed directly into the coffee pot.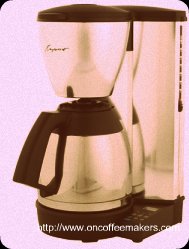 The MT500 might be more expensive than many other coffee makers but the Capresso coffee pot is not the sole reason for the price.
Generally you are paying for a good quality product. The MT500 has ther features that make it a quality ptoduct such as the stainless steel heating mechanism which in turn reduces the build up of lime.
The MT500 also features a pause and serve function which allows for coffee to be served before the brew cycle is complete. Given that it only takes eight minutes to brew ten cups f coffee I wonder whether anyone ever makes use of this feature.
Then, the capresso MT500 coffee machine is programmable and has a clear digital display which allows for the easy use of the machine.
It also has a permanent filter which is virtually standard for all good quality drip coffee machines nowadays. There are however many coffee lovers that will still prefer a paper filter to a permanent filter, but I think permanent ones are so much more convenient.
All in all the Capresso coffee pot is a good thing when it comes to keeping your coffee hot and fresh. And I think in the coffee drinking world, nothing is more important than that right?