Capresso coffee grinder slowness is what I like!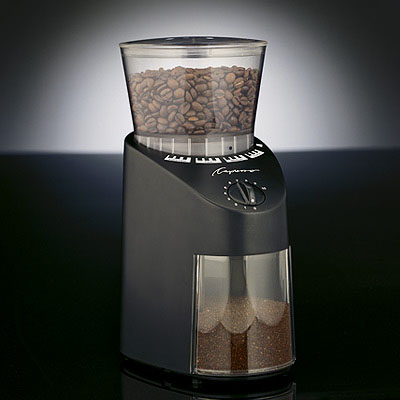 Capress coffee grinder
is very slow and that is good! Most grinders grind fast and mean, and in the process, generate heat that would burn your coffee ground. So, with slower grind, this would mean lesser coffee flavor lost to heat (inefficient heat).
The capresso coffee grinder
which has this outstanding feature is the Capresso infinity, a burr grinder that is elegantly designed. Its first value add is the ability to choose the covering based on your needs.
It can be a tough zinc die-cast chrome finish, a black ABS plastic finish or a stainless steel finish, depending on the look and feel that you are looking for.
So, if you are putting it in some place ruggard, then the die-cast finish is for you, but if it is for home use, then the more economical ABS plastic makes the preferred choice.
This grinder can hold up to 8 ounces of coffee beans in their hopper and when grind, can produce about 4 ounces of ground. The next vale add, I guess would be its "easy to clean" nature, due to its easy to remove burr blades.
These burr are commercial grade solid steel conical burrs that are more durable and better to take the wear and tear versus the blade. Armed with 16 grind settings, it can produce anything from the fine grind for espresso to the coarser grind required for a French Press.
But, all these is not the main value add of this capresso coffee grinder. The main advantage of a capresso infinity is its "slowness" or what is known as the Gear Reduction System.
It is this gear reduction system that gives a slower grinding that leads to less heat build up which of course means lesser coffee flavor lost. And as this gear is not so heavy on its power, it means less strain on the motor, so longer life span for the grinder.
Other than no heat loss, the slower grind at approximately 420 rpm, will produce a consistent grind with no static charge. Consistent and even grind is crucial to making the same flavor cuppa time after time, preventing over (bitter) or under extraction (dilute).
The ability to grind anything for your different coffee machines and the advantage to retain the optimum flavor of the beans, make this Infinity capresso coffee grinder, one of the more popular grinder amongst coffee aficionados.