2 cappuccino makers below $100



Finding cappuccino makers below $100 is an easy task, firstly because of aligning expectations. Your expectation is on finding a machine that brews a good cup of espresso, the manufacturer's expectation is on giving you the best price.
However, we all know that when price is low, some elements has to be sacrificed. In the case of cappuccino makers, it is usually the pressure. There are more than dozens of espresso machines that makes cappuccino below $100. However, they are steam driven pressure.
The thing with steam driven pressure is its inability to reach the required 15 bar pressure to extract fully the flavor of espresso. So, here we recommend 2 cappuccino machines that do not fall into this category.



Delonghi EC155 cappuccino maker
The delonghi EC155 is one the few models that uses pump to produce 15 bar pressure to extract a good cup of espresso. They also have this unique filter that mixes air into their brewing process, and this produce a beautiful crema.
The filter holder gives user more choices and convenience. Other than using ground espresso, it is also able to use e.s.e pods. Giving consumers the choice of using the "one button" single serve solution.
DElonghi EC155 also comes with a self-priming operation. This allows consumers to use the espresso machine with no annoying start-up preparation. It also comes with 2 separate thermostats that controls water and steam pressure separately so that you can make your cappuccino at the perfect temperature.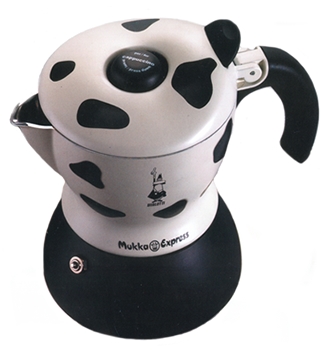 Bialetti Mukka express
This is one of the few cappuccino makers that does not need electricity. The Bialetti Mukka Express allows you to have cappuccino quickly and easily with just a stove top.
Each time preparing 2 cups of cappuccino, all you need to prepare this milk coffee is simply to add in your desired amount of coffee ground, right amount of water and milk. After putting in the ingredients, simply cover it, set the pressure, put it on stove top and minutes later, you would sip a delicious cappuccino!
The amazing thing with Bialetti Mukka Express technology is the cappuccino is already mixed inside the Moka pot and when you served it in mugs, the froth would just raised up. This is different from the usual 1/3 milk, 1/3 coffee and 1/3 froth.
But, it still has the look and feel of cappuccino and sure taste good.
These 2 cappuccino machines, one the usual espresso maker and another has an unusual way of making cappuccino, but both is below $100.






Or, you looking for cheaper coffee makers?