This camping coffee maker would amazed you!






Camping coffee maker might not make sense to most of us, but for those folks that loves the outdoor, this is so essential! I mean, without a specialized coffee maker for the outdoor, most folks would have to survive for the Nescafe 3-in-1 or coffee from a thermal flask.
You get the idea, while the thermal technology is amazing, with some claiming to be able to keep your coffee hot for more than 24 hours, nothing beats freshly brewed coffee. And without electricity out in the wild, you only have open fire or propane burner to fire up your coffee, so the design of this camping coffee maker is important, heating but not burning the coffee.
What we would showcase here is the Coleman camp coffee maker. All it needs is a propane cooktop and with a push of the switch, it would fire up your coffee maker.
Coleman camping coffee maker has a swing away basket, where you put your coffee ground and filter. Water is poured through a hinged lid, similar to any other electric coffee maker.
---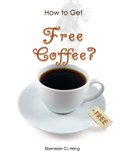 If you are here, you love to drink coffee. So, what would you say if you can get free coffee in the place where you spend most of the time? Or, would you be interested in getting free coffee and save enough to send you for a short holiday?


Show me how to get this free coffee...





---
Now, at this moment, everything seems to suggest that this coffee maker, is similar to any other electric coffee maker. But, applying fire to a coffee maker, wouldn't it burn the coffee?
And this is where coleman is the expert and also why we recommend this coffee maker. When you switch on the propane cooktop, it heats the water that is stored in a metal reservoir just under the carafe.
This heated water is forced through the drip system, and this infusion would give you the quality coffee that is on par with those quality coffee shops' coffee.
There is not much complain about this coffee maker other than the fact that coffee does not stay hot in the wild, so it would be great if coleman could incorporate a thermal carafe into this package.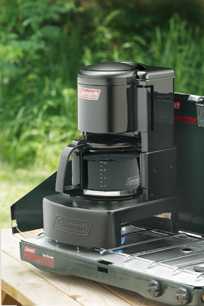 I mean, the brewing is fast, the coffee serves is as good as what you get with home coffee maker. Then, The materials is what coleman is good at producing, definitely suitable for use in the outdoors.
All the above together with its black exterior that makes it resistant to dirt (it would not show), makes coleman the perfect camping coffee maker, don't you think so (click on the link to compare with other coffee makers)?