This Bunn Coffee Grinder Is Not Cheap, But Trustable
Bunn coffee grinder is not cheap, in fact having a coffee grinder by itself is an additional cost.
If you are a coffee lover then having coffee grinders in your kitchen is one of the most necessary things to have.
This is because coffee grinders can produce you high quality and aromatic coffee grounds which are very important in coffee making.
There are various types of coffee grinders and each of them has a big difference from each other.
The grinder types are the following: Hand mills, Burr coffee grinder, Blade coffee grinder, and many more. These several grinders maintain and provide you a fresh flavor and memorable aroma of your coffee.
---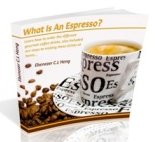 'What is an espresso', is a free ebook download.
This would allows you to differentiate the so many different types of espresso drinks. It is not meant to identify the best espresso machine or make you better at spotting good used espresso machines.
So, do take note of that...
---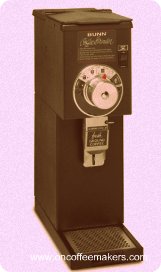 One of the most popular coffee grinders is the BUNN 22104.0010 G1 HD BLACK W/TURKISoft Heat BURRS Bulk Coffee Grinder. This grinder is manufactured by Bunn-O-Matic Corporation.
Bunn-O-Matic Corporation was established in year 1957. This corporation is the very first one to introduce paper coffee filters.
Also, the company was able to create and introduce their coffee brewer which is the "pourover". This machine is designed for commercial use before.
Until this time, Bunn-O-Matic still keeps on designing and manufacturing advance coffee brewers and commercial beverage equipment.
BUNN 22104.0010 G1 HD BLACK W/TURKISoft Heat BURRS Bulk Coffee Grinder has its unique features that you'll surely enjoy. Here are the features of this Bunn coffee grinder coffee maker machine.
1. Bunn 22104.0010 G1 HD's hopper can hold up to 1 pound of fresh coffee pods or beans.
2. It provides good grinding efficiency because its turbo acts to draw coffee throughout the grind chamber.
3. It can grind 1 pound of coffee beans in just 30 minutes.
4. You can select from the wide series or range of grinds.
5. Its convenient cleaning handle will assure you a thorough cleaning of coffee in the grind chamber.
6. The switch automatically stops when the bag are accidentally moved or removed. It is capable preventing the machine to grind if the bag is not properly fixed.
7. The grinding burrs have a three year warranty.
8. Turkish burrs provide high quality grinds.
9. International electric pattern is available.
10. Its design is innovative and stylish which ensures to satisfy you.
11. The shipment of Bunn coffee grinder product only takes 5-10 days.
Having a Bunn coffee grinder in your home like BUNN 22104.0010 G1 HD BLACK W/TURKISoft Heat BURRS Bulk Coffee Grinder is a must if you really like to have a high quality coffee grounds.
So, don't waste your money in purchasing other coffee grinder which is not reliable. Instead chose the bunn coffee grinder like bunn 22104.0010 G1 HD and you'll surely enjoy sipping a good quality coffee.
If you are not looking for a coffee grinder, but rather ratings on machines such as the single serve coffee maker, then do check out our homepage for more information