Boomarang bar and bistro offers more than the down under experience
One should check out Boomarang bar and bistro because it is an Australian theme restaurant? No, you would probably check it out because of the location that it is in.
Situated on Clark Quay beside the scenic Singapore river is the first thing that attracts you to boomarang, but whether you would come back again lies in the service and setting inside the restaurant.
---
Why should you go to this place?
If you wanted to know how Australian cook their steak and do their mash potato, then this is the place to check it out. But be prepared to accept that things might be different.
The first is the way things are cooked and prepared. It tend to be not as neat as the usual French or Italian cuisine.
Then, we do not know if it is on purpose or it is to follow the lassie faire way of the Aussie, the service is pretty slow, but friendly.
Lastly, of course, what is an Australian restaurant without having some Kangaroo meat right?
That is our experience of this place. It is different and from we have heard, folks have experienced it as well.
The difference in the display of the food and the taste might be credited to preparation according to the Australian ways?
Located on 60 Robertson Quay, this is one good place to eat some Kangaroo meat, and they have great views, so one should not have too much complain about it.
---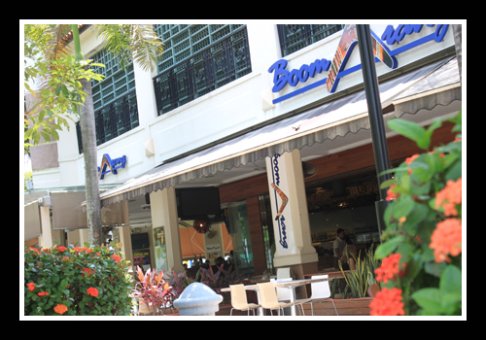 When is the best time to go boomarang bar and bistro?
It can get very crowded during lunch and dinner. But, if are there to people watch and feel the energy of the city, then be prepare to wait and go there during meal times.
Usually packed with bankers and office workers around Shenton way, you might even get a tip or two about investing!
But to us, mid afternoon is always the best time to check out restaurant and it is no different for this.
There, you can sip a cuppa, check some roos meat and count the number of bum boats that passes by.
we hope you find the boomarang bar and bistro interesting enough. If you have other unique cafe, do share with us and the readers by following the link above.
We hope to share what we have prepared for you too...