Introducing office coffee maker is no point...



Office coffee maker is different from the home coffee machine where you can make all the decision. For an office coffee machine, it would probably be evaluate by a committee and then approved by the boss.
So, telling you which model of office coffee maker is good is just the first step, and good in this case usually mean cost efficient. This article would be a snippet from my free coffee ebook where I share with people on how they can get free coffee.
Personally, I think it should add more value to you by knowing how to get free coffee rather than the usual evaluation on which coffee makers is best for office operation right?
But, prior to that, for those that are really looking for a cost efficient coffee maker, my recommendation would be the table top vending machines. Using freeze dried coffee is at least 40-50% cheaper than coffee beans. Moreover, these machines usually dispense with a push of button. The lower cost and ease of use are 2 value add for offices.
One of the more well known office coffee maker for this genre is Nestle Lioness machine. With its ability to dispense the whole range of "gourmet coffee" from espresso to latte, and using a mixture of a few product ingredients make the lioness one of the more popular coffee machines around.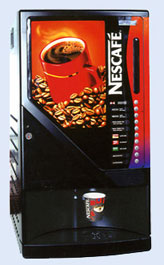 Now, that you know which model is the more cost efficient model, I should move on to highlight how you can convince the management to place one such machine in your office. For office coffee, it should be something that can perk you up, I guess the objective is no so much about quality but availability.
Currently, most offices should have sachets 3-in-1 coffee. The usual way, these coffee is in the pantry is either contribution by employees or sponsorship by welfare department. For our free coffee, the whole idea is to get its from the management, without you paying a single penny!
There is only one way to do it and that is to get into project group and push the idea of promoting team work, better morale and higher productivity. This 3 management terms are words that management would not say no to, these are what would leads to higher profit.
After forming a group, steer the project group into writing a few drivers of higher morale (of course, free coffee has to be one of them). Following that, break into groups to explore the various options, making sure that free coffee is one of them.
Getting free coffee involves calling for quotations and assessing office coffee makers. This is a crucial period, do remember to do an evaluation before and after the installation of the coffee machines.
Trust me, the evaluation result would be one that support the installation of coffee machine. For more information on how to go about getting this free coffee, do check out the link.
There you have it, a way to get the office coffee maker into your pantry...