Commercial coffee machines, get the right costing to get the "right" one into your office!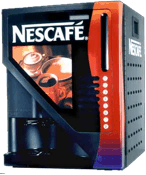 Commercial coffee machines being a motivation for better workers' productivity is a pitch to get the machine into the office. And, to get a higher chance of success is to consider this 2 points, price or phew.
To get the management to endorse idea of having coffee machines (an additional expense), requires strong selling on welfare of employees to better motivation, increasing productivity. And achieving all these at not a really high cost.
The 2 factors price and phew are inversely related, as in if one goes up, the other would go down. We all know that, the lower the cost of commercial coffee machines, the better the chances is in getting one for the office.
However, if it is so difficult to operate that employees are spending precious work hours using it, then getting a slightly more expensive model might get better cost savings in the long run...
Now, let me show you how to get a "better" (to me at least) coffee into office and yet have your managers thinking is a good deal.
Let use 2 commercial coffee machines for example. Nescafe Lioness H5 that uses freeze dried granules is a machine that is free on loan and the granules is probably $0.10 per serve.
Then, you have Keurig B3000, which costs a few thousand dollars to purchase and 1 K-cup is approximately $0.40. A simple price comparison on these 2 coffee machines would lead one to choose Nescafe Lioness H5.
However, if you drill deeper into the operation of both machines, time savings on the Keurig would more than off set any savings you get with the Nescafe Lioness H5.
For Nescafe commercial coffee machines to be working properly, it requires daily cleaning. And its cannister for the coffee granules must be stirred and maintained, so as not to have caking situation.
Then, its mixer bowl have to be flushed and cleaned on a daily basis for hygiene purpose. Keurig B3000? Nothing, everything is in the K-cup and cleaning is almost not required.
So, either you have a duty roaster and have an employee taking care of the Nescafe commercial coffee machine or employed a coffee lady for the job which in either case, racks up additional cost for the company.
If you were to present this to the management and then shows how easy it is to operate and how good the coffee is, the chances are already very high that you should get the machine.
Oh...at the time of this article, there is a 3 days free trial from Keurig and you can actually use that to better the chance of having a free coffee machine in your office -all the best!


Wanna get a keurig or some coffee makers for home consumption, follow this link to read more reviews and articles...