Buying russell hobbs coffee maker because it is pretty?
Russell hobbs coffee maker is not a coffee machine that many of you would be familiar with. If someone is thinking about buying coffee makers, it would probably be a Bunn or Mr Coffee.
**Now, there are many people that says Bunn or Mr coffee does not brew good coffee -is wrong!
Check out this free coffee course to see how to brew great coffee with any coffee makers....
But, this is not to say that Russell Hobbs is a new kid in town! The fact is this is a company with more than half a century heritage and russell hobbs coffee makers have their own following and fans.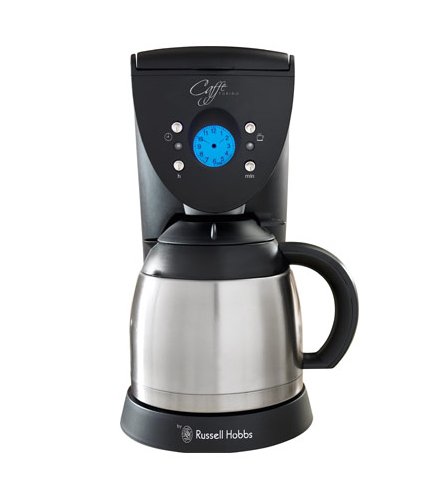 So, if I would to recommend a Russell Hobbs coffee maker, which one would I highlight? Well, for those of you that have followed my articles, I am biased towards 2 elements for coffee makers.
They are "look and feel" and thermal capability. Therefore, the coffee maker is one that comes with both feature and more. From Russell Hobbs stable of coffee makers, it would be the Caffe Torino.
This is a 10 cup thermal coffee maker and the thing that drive me to choose it as an representative for Russell Hobbs is its look and feel. With its blue analog clock face and it metallic finishing, this coffee maker would not look out of place in any kitchen decoration.
For those that are looking for a suitable color for your appliance to match your kitchen decor, there are 2 colors that would not go wrong, silver and red. It is just right to captures attention but subtle enough to fit into the overall color scheme of your decor.
Then, as the name suggest Caffee Torino thermal coffee maker. The thermal function is something which I think is critical for a drip filter coffee maker. Currently, there are many warmer plates coffee maker, that promises timer control, all wanting to assure you that there would not burn your coffee.
I am sure that this timer control can do a great job, but why be so bothersome when a thermal carafe can keep my coffee fresh and hot for at least 2 hours. Thus, to me, rather than having any complicated equipments, I am satisfy with a thermal carafe.
Of course, the features of the Caffe Torin does not stop here. The blue analog clock face , double up as a 24 hour programmable LCD timer, allowing to wake up to a fresh cup of coffee. This Russell Hobbs also comes with a brew strength selector that would ensure that everyone in the family has their choice of coffee.
There you have it, my choice of coffee maker from Russell Hobbs...