French drip coffee pot gives good coffee too.



A French drip coffee pot is an easy way to good coffee whilst turning the process into something of an art form. It is a way to make coffee that would heightens the enjoyment their of and lessens the impact of the process on the environment.
This drip coffee pot is a manual coffee maker that requires time and patience to perfect the coffee making process.
We are all used to grabbing a quick espresso or sharing our favorite latte recipe on the run. Perhaps the time has come for coffee lovers the world over to reflect on the impact the coffee making process has on the environment and to invest in a manual drip coffee maker whose carbon footprint is significantly less than your average espresso machine.
There will always be room for espresso machines. However, a French drip coffee pot might also be a way in which to heighten the enjoyment of the total coffee experience.
---
This is probably the lightest french drip coffee pot that you can find. Marketed in Singapore by Kaffa Kaldi Pte Ltd 
---
Coffee Feature of the Month
2021 Brew Coffee Workshop with Barista Champion
2021 Latte Art Workshop with Barista Champion
---
Enjoy: Free Office Coffee Machine (+ enjoy $1200 vouchers)

Find: Where to buy Coffee Beans in Singapore (or any where in the world)
---
---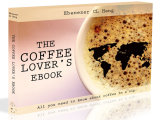 Love coffee? Here is some more "free stuff"! Learn more with this ebook (is free!)



---
The thing about a drip coffee pot is that you need time.
Making coffee using a French drip coffee pot cannot be rushed. In parts of the state of Louisiana it is common practice to use a tablespoon and spoon the water over the grounds.
This means that small amounts of hot water move very slowly through the grounds packed into the filter of the coffee maker. The resultant coffee is said to have a unique aroma and taste that cannot be achieved by rushing the process.
Of course one can carefully and slowly pour the hot water over the grounds; one does not have to spoon it. Once you have enjoyed the two or three cups that a French drip coffee pot can make all you have left are the moist grounds that can be added to the organic part of your garbage.
The French coffee pot is totally portable as well. It can go anywhere with you as long as you have access to or can make hot water. It is ideal for the family camping trip.
If you do not have the time to make coffee the French drip way when you are on vacation, then one has to wonder what you are doing there in the first place.
A manual drip coffee maker can become a conversation piece in a time when people have less and less to say to one another. The bonus is that you make good coffee at the same time.