Using Cartoons to sell coffee -would it work?
by chee Leng (on coffee makers)
(Singapore)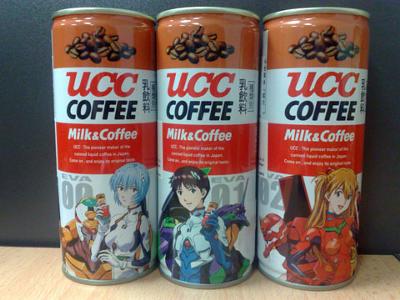 UCC and Evagelion
Coffee is usually associated with romance, relaxation, sophisticated and cool. So, not many people would use cartoons to peddle their coffee.


In recent times, one of the most successful coffee promo would be Nespresso with
George Clooney
, it really alleviates the brand (they can charge more money).
But, cartoon...would it work?
Well, one company UCC (the biggest coffee roasters in Asia) has been doing that for years, and recently they did another new launch with Evagelion.
It seems to work with the buzz that they are generating (why, it is so loud that I heard it), I think folks that are in this trade should have caught wind of it as well.
The question is can coffee go hand in hand with a cartoon character? Sure, in Japan, it could work, but outside of it, can you sell Coffee using Mickey Mouse?
My $0.02.
I think this is really a cultural thing, I personally do not think coffee can go well with cartoon outside of Japan mainly because of this two points:
1. Japan has a huge cartoon culture, and Evagelion is what is commonly known as manga, (i.e. Cartoon for adults), so it is acceptable for adults to be reading and many of them are in the habit of reading comics.
In the west and other places, there are segments for comics such as Marvel and DC (superman, Spiderman) but I think generally the segment is limited to kids.
I don't many adults would queue for a coffee because it spots a spiderman or has a superman premium.
2. The habit of drinking canned or iced coffee is huge in Japan primarily because for every 4 Japanese there is one vending machine.
Compared that to the rest of the world, where coffee is still drank from Cups and brewers, the potential for selling canned coffee is much lower.
I do not think it is easy to pair figurines or even cartoon characters with coffee powder, the imagery is just not right.
SO, my $0.02 is coffee with cartoon wouldn't work outside of Japan -what is your thought?