Single serve coffee market is a battle ground -hotly contested in every corner...
by chee Leng (on coffee makers)
(Singapore)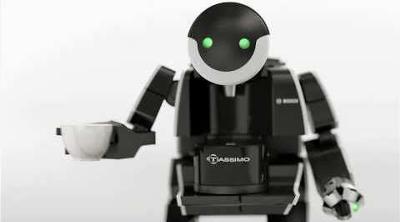 Tassimo Brewbot
Yes, it is about Single serve coffee again, I hope you are not bored reading this content, there are simply too much happening out there not to write!


First, for folks that are in the know (or have followed my articles, you would know that
Nestle initially has gotten some success in banning
their compatible products in Switzerland.
Of course,
the ban was lifted subsequently
by the Swiss court and this week Denner the supermarket that was banned from selling the Nespresso compatible capsules announced that it would be on its shelves again.
It would be marketed under the
NexPod brand name
.
Nespresso is continuing its legal action against Denner. And this is especially important for Nespresso, as it is also battling two other lawsuits in France.
One against
ECC
, and the other against
Sara Lee
.
Now, it seems that they have a low rate of success and if they failed in this legal case, it would open the floodgate for companies to produce compatible capsules.
This would seriously erode their market share in their strongest market -Europe. Where companies start to ride on the huge machine network that Nespresso have worked so hard to develop.
Meanwhile, in the uS. Tassimo, is taking a tour around the uS with its brewbot. Two features of the tour is the donation that it would make to "Feeding America" and the exchange 1-for-1 using your old coffee maker.
Tassimo would make a donation to "feeding America" with every photo consumers take with tassimo and posted on Tassimo facebook business page.
The 1-for-1 exchange is especially attractive. Consumers that bring in their old coffee pots are allowed to exchanged for a new Tassimo coffee maker (although this is limited to the first 200 sets).
Tassimo is drumming up its activity in the wake of Starbucks and Keurig partnership. When summer comes, and Starbucks and Keurig officially launched their products, it would eclipsed any promotions that other coffee companies does.
While, there is no official data about it, from my point of view,
Tassimo loses much in the breakout with Starbucks
.
Firstly, it loses a huge segment of loyal customers that want to drink Starbucks at home.
Secondly, it provides additional ammunition to the already strong Keurig (Green Mountain Coffee Roaster) to further grow their customer base and retain existing customers.
In the Far East, CBTL is making news in Singapore with the launch of their Single serve coffee maker in most of their retail
outlets.
Is this timed to be before the Starbucks and Keurig launch? While, it would take a while for consumers in Singapore to pick up a single serve coffee machine, CBTL is sparing no effort in marketing their brewer.
CBTL is aggressively marketing their product via traditional and Social Media. Their advertisements are on every hour of the day.
And within a span of two weeks, the CEO appears in Strait Times, Singapore most read national papers for two times. Very shrewd PR marketing!
Every company seems to have their target fixed on one location and actively pursuing it.
1. All the Nespresso compatible pods focused on Nespresso in Europe
2. Tassimo center all its activity in US.
3. CBTL although base in US, seems to have a greater interest in Asia.
Here is my $0.02.
The winner or losers would be clearer once Keurig and Starbucks enter the fray. The two areas that I see Starbucks entering is US and Asia.
This is two of Starbucks stronghold and moreover, they would likely want to avoid Europe. Starbucks has traditionally launched their new product in US, then Asia (with Japan being their first country).
They have just recently launched their via in China, Hong Kong and Taiwan, so with news still hot about them, another launch in Japan would maintained the buzz about them.
If I am them, other than the North East Asia, they should spend more effort in South East Asia, where Nespresso has a strong presence.
With their distribution outlets, they are the only one that can take on Nespresso straight on. And if they win the marketing war against Nespresso, the market is free for their taking.
It would be a tough fight, but think about it. Nespresso has been ploughing the ground, telling consumers about the benefits of single serve coffee maker for years.
And they have much success, now isn't it a good time for Keurig-starbucks to go in and reap the benefit?
Why I would not touch Europe if I am Keurig-Starbucks? Nespresso is already facing huge problems with the compatible pods, and going in might dilute the effort of the compatible pods i.e. Sara Lee or ECC. It is better to leave it alone to them.
And in US? Keurig-Starbucks should not have a problem in US, if anything, it would be a measure of how much is the organic growth.
Two of the biggest companies in US coming together, the growth have to be significant in order to make shareholders happy!:)