Singapore customized sweets producer Ten Zero
by Eb
(Singapore)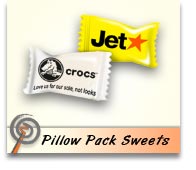 Pillow packed customized sweets Singapore
It is only for special occasions that you would need specialized customized sweets? It used to be, but not anymore.


Ten Zero having served a fair share of corporate customers, have seen how a seemingly ordinary pillow packed sweets are being used to convey marketing messages, reinforced branding and even used as a salesman!
What was started as a tool that folks like you and me can used to jazz up a party, is not increasingly being used as part of the marketing arsenal as well.
In the past, we only do customized candy boxes, pillow packed sweets or customized chocolates for occasions such as weddings, birthdays, Dinner and Dance (we still do that).
But now, most clients come to us to do branding for product launch, to reinforce their brand image, special gifts for their customers.
The lists goes on, and you can be assured that if it is sweets or candies, we can help you customized it.
In fact, we can even value add by providing consultancy on how you can use it to better the exposure of your company products and services...
Check out
customized sweets
website for more details or contact us today at 68413997