Have you been to Nescafe cafe yet?
by chee Leng (on coffee makers)
(Singapore)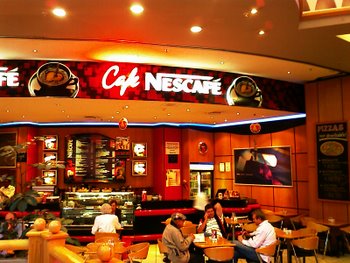 other nescafe cafe
Nescafe, the world largest coffee roaster is venturing into cafe business, with its Nescafe Milano brand in Romania.


Some years ago, Nescafe tried opening cafe in Singapore, it did not took off. Last year, it tried in Europe, not much was heard about it since then.
This time round, it terms this effort Integrated business solutions and it is executed via their Nestle Professional division (previous known as Food Services).
The Nescafe Milano cafe concept is a turn key solutions for their partner that wants to open their own cafe. Nestle would provide the products, the equipment, programs including staff training, business planning and even marketing.
So, when you joined in, all you need to do is pump in some money and you can have a brand name cafe.
The Nescafe Milano in Romania, located in Romana Square is owned by businessman Gergios Repidonis and thus far, 20 000 euros have been invested in it.
This is a 100 square meters cafe with a combined of 200 seating capacity.
My $0.02.
Nescafe is still the world most profitable coffee manufacturer but has seen eroding market share that they have no way in stopping.
And diversification is an avenue to grow their revenue sources. They diversified with Nespresso, and it reaped great results, currently their top performer in terms of growth and profit.
So, naturally they want to look for another "Nespresso" to further grow their business, but it would not be easy.
Here is my take on why it is so hard for cafe business:
1. The competitive nature of it -even veteran cafe operators such as Starbucks is going into grocery and retail after sluggish growth for many years,
send a strong signal on how hard it is to grow the cafe business.
2. The brand name, while good for consumers that look for instant coffee, is an element that would drag down the ability to run a cafe business.
Consumers would link Nescafe to instant coffee, and might be reluctant to pay 3-5 euros for a cappuccino when they can pay a few cents for an instant coffee.
3. High cost of business. Whereas, Nescafe have the clout to bargain in retail business due to the sheer size of their business, the same cannot be said for their cafe business.
They are newbies and has to pay premium rental and experienced some learning curve before growing to a substantial size.
But, still they need to take the cafe route because:
1. Instant coffee is experiencing competition from known companies such as Via from Starbucks and local companies manufacturing their own instant coffee at a much lower price.
2. Their star brand Nespresso is facing stiff competition from
Starbucks and Keurig
which is launching their keurig in Starbucks outlets.
Tassimo
which has just entered into Europe, traditionally Nespresso stronghold.
In addition, they are facing loss of business for their capsules due to companies such as
Nexpod
,
ECC
and
Sara Lee
coming out with compatible products.
I do not know if this Nescafe Milano would succeed, but I am sure they would try again until they have a cafe strategy right and replicated and expand on it.
That as always been the modus operandi of Nescafe and thus far it has proven to be profitable -look forward to their cafe in Asia though when it would take on the local boys!