Coffee Roasters in Singapore | TAD Coffee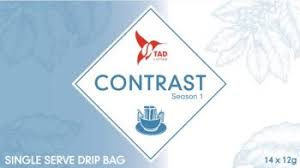 About This Coffee Roaster:


TAD Coffee is young but already well-known coffee roaster in Singapore who is innovating faster than many well-established roasters. Though only a few years old, they have already developed their ready-to-drink coffee range, drip bags, and speciality coffee capsules. They also roast on behalf of quite a number of well-known cafe operators in Singapore.
What Beans Do They Roast:
TAD Coffee roasts a variety of beans, including their own specialty blends. Here is a list of the single-origin coffee that they roast.
- Colombia Finca El Paraiso, Frutos Rojos
- Colombia Finca El Paraiso, Lima
- Costa Rica Finca La Isabela, Natural
- Ethiopia Masha G1, Natural
- Ethiopia Yirgacheffe Misty Valley, Natural
- Sumatra Mandheling "Mena-Gold", Giling Basah
Where Can You Get Their Coffee:
TAD Coffee's range of products is available for home purchase internationally with FREE international shipping via World Coffee Mart.