Wimbly Lu |Singapore cafes and Cakes
by Selina
(Singapore )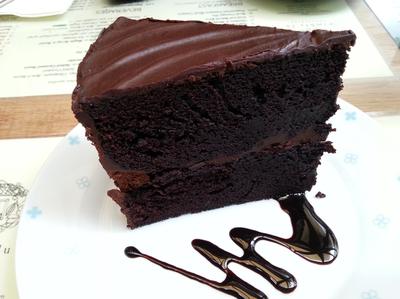 Chocolate Cake |Wimbly Lu Cafe | Singapore
This place is not really easy accessible if you don't drive. I think it might be a 15 minutes walk from Lorong Chuan Mrt.


However, the location of the café is what makes it charming. It's located in a quaint neighbourhood of private houses and the laidback design of the café is where you might want to spend a quiet afternoon on your own or with some close friends.
Tried one of their signature blackout cake and found it pretty average. Quality of ingredients used was good but the cake did not stand out for me.
Drinks were a miss….had a long black and a matcha latte. The matcha latte tasted very sweet, am pretty certain it came from a premix pack.
It's kind of far off from what I had in Japan. The matcha flavor was non-existent. However, the cookies that came along with the drinks were delicious.
Overall, WImbly Lu is a winner in terms of ambience and service. I will want to bring my loved ones and spend a lazy afternoon chilling out over a cuppa and some cookies.
15 Jalan Riang, Singapore 358987
Have you been to cafes better than Wimbly Lu? Share with us in our collection of
Singapore cafes and cakes
.