Which cafe has the best coffee in New York?
by chee Leng (on coffee makers)
(Singapore)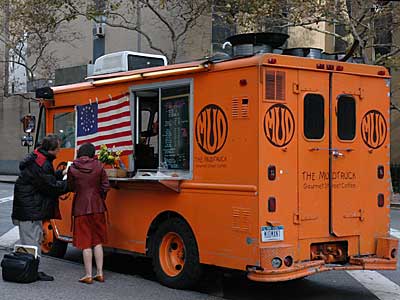 Mahattan MUDTruck
This is according to the Krups Morning Joe Award. An award that is given to the New York Best cafe, after surveying 250 coffee drinkers in New York.


There are similar awards given to other states, and I might write about them in another article. But, for now it is New York.
We all know how "snobbish" New Yorkers can be, it has to be the best. And it is no difference when it comes to coffee.
They want the best coffee, but there is a problem. No cafe or coffee shop would acknowledge that they are serving second best -thus every cafe has the best coffee.
By asking coffee drinkers, the Krups Morning Joe Award is able to streamline and identify the best.
And here are the winners:
Manhattan's MUDTruck
, this is really a truck serving coffee! Though they have a store call MUDSpot in 307 East 9th Street, I guess it is the concept of the truck plus their strong coffee that won them the "best" title.
Brooklyn's Gimme! Coffee
, located in 495 Lorimer St, Williamsburg. They have a Master Roaster Jon Gant that does great coffee blend daily.
The Bronx's Beans and Berries
, located in 2038 Easterchester Road, Bronx, this is the only local coffee shop in the Bronx area. And its main draw is the affordable French Press coffee that it has.
Staten Island's Java Den
, located at 3135 Victory Blvd, Staten Island. While the coffee done by the team of husband and wife is good, I find the concept of their changing old books for new refreshing! One can simply change it at their "Take One Leave One" Bookshelf.
QUeen's Sweetleaf
, located in 10-93 Jackson Avenue, Long Island City, Queens. They roast fair trade coffee and espresso drinks and is the only purveyor in Queens.
My $0.02.
I have written on how
Mc Donald's has the most loyal customers
. And if you look at the winners of the Krups Morning Joe Award, you would noticed a similar trend.
Most of the shop that are featured has an affordable coffee. Thus, regardless of what they say, price is still a very valid determining factor when it comes to choosing cafe.
Coffee lovers are still price sensitive and would go for the most affordable coffee that taste good -so take note of that coffee shop owner!