The coffee at Kopitiam compass point is pretty good…
by Juliet
(Rivervale Dr, Singapore )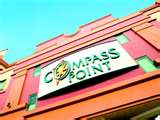 Okay, most of us in Singapore would not agree with me that a food court coffee or kopi is good. But, personally I really like the coffee at compass point kopitiam.


I guess it is the way that the uncle make it, but the coffee and milk taste just right. Most of you know that a good kopi is one that has the taste of coffee but still gives you enough of the milk taste.
And of course it must be sweet.
The problem with most uncles and aunties is that when they prepared their coffee, they tend to put in too much condensed milk making it too sweet.
Then there are the uncles and aunties that cooked the coffee too long leading to a burnt taste.
I think this comes with practice, using a simple sock to make coffee is not that easy -so the uncle in Kopitiam should not be too bad.
Now, for people that have not been to compass point (which is in a faraway land of Sengkang), it is not that I am facing limited choices.
In this shopping mall, I can go to many other eating outlets for my coffee, i.e. Starbucks, Yakun for example. I tried them, they are not bad, but standard.
I guess this is what happened when you go into franchise and have process -everything is the same. It doesn't matter if you have your coffee in Changi Airport or Kallang Airport, every Yakun or Starbucks coffee taste the same.
I am no expert in coffee, but good coffee in compass point has to be this kopitiam.