Prima Deli Waffles & Coffee
by Shan
(Singapore)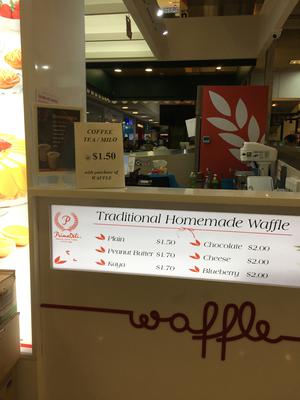 Prima Deli is known for its delicious and crispy Waffles. I chance upon this outlet at Sembawang Shopping Centre basement 1 that offers $1.50 Hot Coffee/Tea with purchase of their Waffles.

This seems like a good deal as the usual cup of coffee in the mall cost between $3 -$4. As the Prima Deli outlet is located outside Giant Hypermarket, customer can enjoy freshly baked Waffles with hot coffee while waiting for their family to finish grocery shopping.

Customer may choose to purchase the drinks without Waffle;
For $1.90: Black Coffee, Cappuccino, Latte or Teh Tarik.
For $2.10: Mocha or Milo.


I notice they are using Nestle Alegria Instant Powder Machine which most probably does not have fresh coffee beans option. (using instant coffee powder, 3 in 1)

My company is using Kaffa Kaldi coffee machine with fresh coffee beans and 2 powder options. We selected Teh Tarik and Hot Chocolate as these are mostly accepted by colleagues.
The machine is from Switzerland and its very user-friendly.
Brand: Schaerer
Model: Coffee Prime.

Join in and write your own page! It's easy to do. How? Simply click here to return to Espresso Coffee Machine Review Page (Consumers).
---